At some point in our childhood, we have experienced playing with basic cars and running them on railways. Now, there are so many more designs and models to choose from. These timeless toys appeal to a large span of age groups which is no surprise given their popularity. If you are still in deep thought of the ideal present, your search ends here. The best race tracks for 4-year-olds are the next perfect gift you are looking for.
Toy car tracks have improved a lot over the years. There are many entertaining features and vivid details that can offer countless hours of fun playtime. When looking for a good product, there are factors you should always keep in mind. Here are some of them:
Age: There is a suitable toy for different age groups; that is what the recommended age in the product packaging is for. The ideal toy for younger kids is easy to grasp and has no risk of choking hazards. Older children are more up for challenges, so give them intricate sets.
Material: When looking at the materials, consider whether it is durable and can last for the years to come. Eco-friendly options are always better. Recycled plastic and wooden options are preferred by many who choose this path.
Value: Does the product have educational value? Can it help develop essential skills that your kids will find helpful as they grow up? Is it encouraging their imagination and creativity? Opt for a toy where you can answer yes to those questions.
Comparison Table
Race car sets for 4-year-olds can be an integral part of a growing toddler. You don't just pick the first one you see. It'll require research and hours of pondering. This will take up a lot of time, but the research part is all covered if you read our product reviews and buying guide below. Read on and take notes.
Top Race Track for 4 Year Olds Reviews
1. Toyk CF1616 A Dinosaur World Road Race Track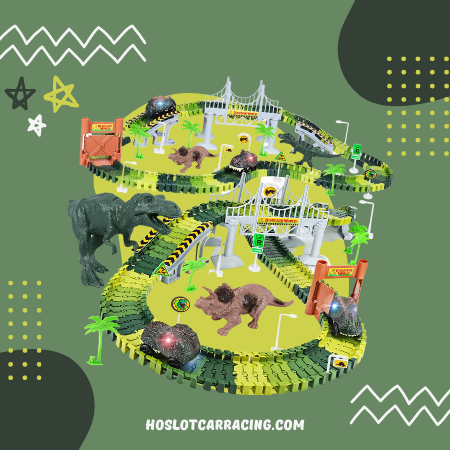 Every kid you know wants cars and race tracks. It is a classic toy that many ages can enjoy. You can find some of the best from Toyk.
They have this dinosaur-themed track set that comes with 144 tracks, two dino cars, two dinosaurs, four trees, two slopes, a door, and a bridge. Kids can design their own dino world and enjoy hours of interactive play.
The entire trail offers flexibility when put together. Moreover, the tracks are dynamic, which means you can twist them left or right. You can create many track layouts. Every step is effortless, from assembly to storage.
The dino vehicles run on one AA battery. Together with the dino molds, they provide an interesting and appealing game. In addition, they teach children essential skills. Your little one can learn how to cooperate, exercise their hand-eye coordination, and perceive colors.
All the parts of this toy are made of high-quality and durable materials. Plus, it is safe and non-toxic. Parents can rest assured that it is a product that brings no harm to kids. It will also last for a long time, providing fun playtime.
Pros
Dinosaur-themed
Creates different layout
Easy to assemble
Teaches important skills
Non-toxic
Cons
Some stickers and brackets are missing
Advantage:
The only issue I have with this playset is that some stickers are missing. The brackets may also be missing but you can still make it work. It is not much of a problem with the children either.
Disadvantage:
This race track for 4-year-olds is a total delight for both kids and parents. It is perfect for little ones who love cars and dinosaurs. There are several layouts available, and the tracks are surprisingly flexible.
2. Carrera 63010 First Disney/Pixar Cars Car Race Track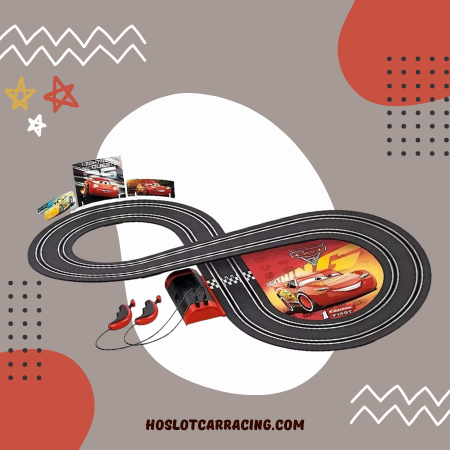 The appeal of race tracks spans several age groups. It is no wonder that many are still loving this timeless toy. If you plan to pass on the joy of having one, check out Carrera and their fantastic collection.
Take a look at this playset with 7.87 feet tracks and 1:50 scale cars. It comes with Lightning McQueen and Dinoco Cruz vehicles from the popular Pixar Cars 3. This is ideal for beginning racers who are just starting to explore the world of slot cars.
With realistic driving action, toddlers have easy control over the mini vehicles. The tracks are also battery-powered, making them more appealing. In detail, the toy features ergonomically designed and electronically regulated speed controllers. It prevents the vehicles from flying off the track. Your kid can learn how to race and develop winning driving skills while playing on the tracks.
The track flyover and figure 8 turns can get any kid hooked on a thrilling racing action. This fast-paced game is perfect for two players and even for the whole family! The accessories included in each pack are three themed ones.
Pros
Perfect for beginning racers
Realistic driving action
Speed controllers
Battery-powered
Comes with accessories
Ideal for two players and group activities
Cons
There are gaps between some track pieces
Some metal parts have sharp edges
Advantage:
But there are several minor problems that I want you to know. There are gaps between some tracks pieces; thus, it is vital to check before each play. The metal parts of the mini-cars have sharp edges. Parents should always supervise their little ones while they play with this product.
Disadvantage:
Any fan of the Cars movie will surely love this slot car set. If you are looking for your child's first race car track set, this is the ideal one you should consider getting.
3. Matchbox CJM67 4-Level Garage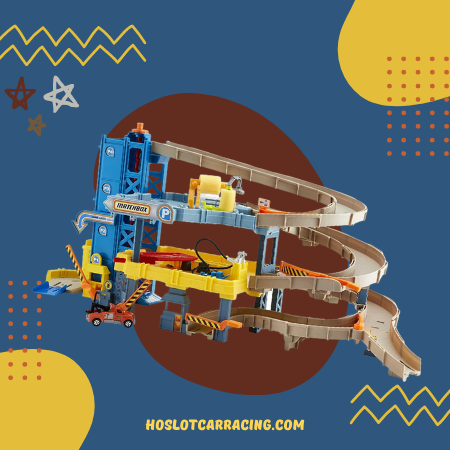 A slot car set for a 4-year-old could be the ideal toy your kid is waiting for. You've been there, and you know the joy of having one. Buy them a set or two from Matchbox.
This one-stop playset presents a real-world adventure for all children. It features four levels of different activities where the vehicle can wind around. There's a spiral ramp and a real working elevator. One thing's for sure: no boring time in this garage!
Moreover, the set has fun stations—a premium car wash area where the cars can stop for cleaning time and a service station for repairs. Stop by and refuel at the gas pump or ride the crane to reach the top. It is an astonishing garage that every kid loves.
This is a ready-to-play set that toddlers can play with straight out of the box. The decorations and colors are detailed and appealing. Let your little ones experience imaginative adventures. It is a highly interactive toy with tons of play opportunities. Besides, it is a fantastic way to stimulate their creativity by coming up with scenarios to go with the setup.
Pros
Four levels of activity
Comes with stations
Ready-to-play set
Offers imaginative adventures
Cons
No instruction manual included
Advantage:
The only issue with this product is that there is no instruction manual included in the package. The directions are vague and do not reflect the version you see on the box. It is a good thing that figuring out where each part goes is easy.
Disadvantage:
This toy will bring a smile to children's faces which will also make parents happy. Their imagination is the limit! They can have a good time at each level and area of the garage.
4. USA Toyz Glow Race Tracks and LED Toy Cars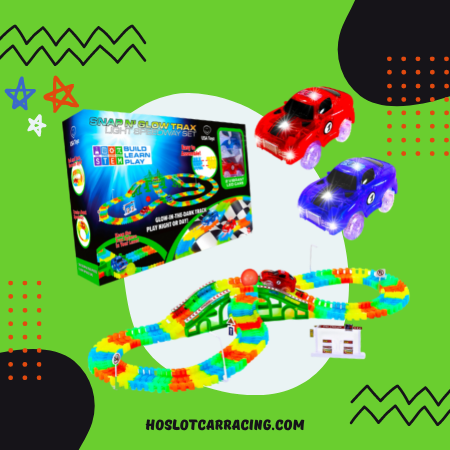 Are you still pondering what to give your little one on a special occasion? Have you considered getting them toy cars and race tracks? USA Toyz sells high-quality playsets that will surely bring laughter.
Have a look at this snap and glow race track set. In detail, it comes with 360 pieces of neon tracks that can be interchanged, two LED race cars, two trax balls, two slope frames, an intersection, a bridge, and road signs. The vehicles require two AA-size batteries, which you can buy separately.
Building custom speedways is effortless with the easy to snap and take apart tracks. The bendable tracks can be looped and flexed in various ways and shapes. In addition, you can roll it up in seconds, making it perfect for traveling and storage.
Toddlers can play with it alone or with friends and siblings. It is an educational toy that aids in developing problem-solving skills, thinking skills, and motor skills. It teaches them teamwork and cooperation while stimulating their imagination and creativity.
Pros
Snap and glow tracks
Easy to connect
Easy to store
Encourages learning
Kid-safe and quality assured
Cons
No instructions in the package
Advantage:
Each part of this product is made with non-toxic and high quality. It is kid-safe and quality assured, so parents can rest assured of their children's safety. But there is a minor issue that I want to point out. This toy does not come with an instruction manual on putting everything together. Fortunately, it is not that difficult to figure out.
Disadvantage:
Flexible tracks bring many configuration options, which means you can change it when your kids get tired of a layout. The educational value of this toy is also high; many parents will find it appealing.
5. Forty4 Construction Themed Race Tracks Set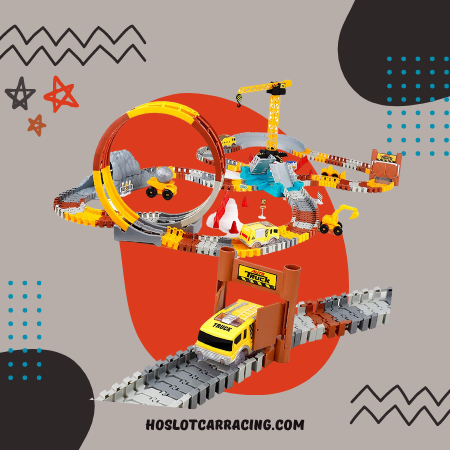 Show your love to your children by getting them a themed toy car and tracks. It is every child's dream present for the coming holiday. Where to avail these toys? Forty4 has a collection of fantastic car track toys that you can consider.
This track set is the complete package with 192 pieces of tracks, a crossroad, three small cars, two race cars, a slope, a door, four tires, a tunnel, a turntable, a ball, and a crane. It is the perfect kit that can entertain any kid for long hours. For any special occasion or event, this is the ideal gift you can give to a toddler.
Thanks to the flexible tracks, you can make any configuration. Twist, turn, and adjust it to your liking. It can create different shapes and sizes according to the space and play scenario. Besides, the assembly is relatively simple. With a simple twist of the dynamics to the right and left, you can disassemble the tracks in a matter of seconds.
Furthermore, the different variations children can fashion with the track pieces make playtime exciting and more appealing. There are endless ways to wind the trail for a thrilling ride.
Another important feature of this toy is its educational value which enhances essential skills. It boosts toddlers' imagination power and creativity skills. In addition, it helps develop color perception and hand-eye coordination.
Pros
Complete package
Flexible tracks
Simple to assemble
Amazing variations
Enhances important skills
Cons
The cars cannot be turned off
Advantage:
There is, however, a minor issue with the cars that you cannot turn them off. When you lift it off the tracks, the wheels will keep on turning. There is also the risk of the wheels getting caught in your child's hair. Make sure to have someone look after them while playing with this track set.
Disadvantage:
This toy race track will become your toddler's next favorite toy. It is complete with everything they need for a thrilling and fun playtime experience.
6. iHaha XS181A-5 Construction Race Tracks for Kids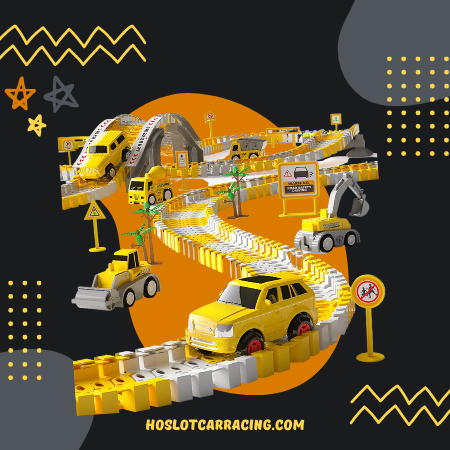 Children love receiving gifts even more if what they get are race track toys. Make your little ones happy and give them a playset from iHaha.
They have this construction set with 200 pieces of flexible tracks, four mini trucks, two race cars, two trees, eight traffic signs, and a bridge. All these make it possible for children to build their own little establishment. These engineering toys are a pleasant surprise that your kids will surely welcome with open arms.
There are arc and Y-shaped tracks, which, when paired together with the bridge, create advanced configurations. Besides, the tracks are flexible enough to snap into different forms and shapes. Each pack comes with tons of accessory items. Trucks with working arms, the bridge, and road signs build a pretend space where all construction jobs can happen.
Furthermore, there are six types of trucks with unique designs and functionality. These are a road roller, two racing cars, a haul truck, a cement truck, and an excavator. All parts are made of high-quality materials and conform to the safety standards set in the county.
Pros
Advanced configurations
More accessories included
Variety of trucks
Safe and high-quality
Stimulates creativity and imagination
Advantage:
This is the perfect toy for stimulating creativity and imagination. It also limits screen time and offers hands-on play. The only problem here is that some of the parts are small. It presents a choking hazard for younger toddlers. Parents should have someone supervise the little ones at all times when they are playing with this product.
Disadvantage:
There are many things to love about this playset. From the features to the functionality of the parts and pieces, everything is top-notch.
7. VATOS V-6702 Garage Track Set Toy for Kids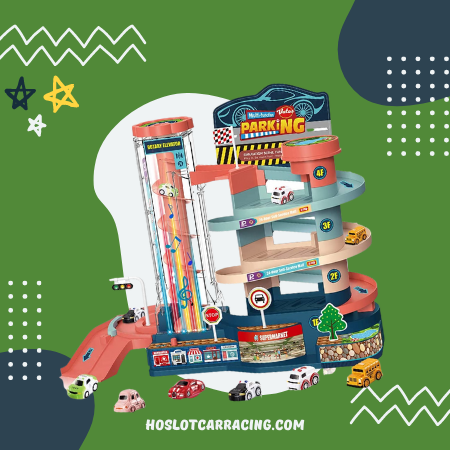 If you played with race track toys back in the day, you understand the immense joy it brings. Pass on this experience and happiness to your kids. Give them a track set from Vatos.
Consider this garage toy that comes with a variety of accessory items. It includes six small cars, a helicopter, six road signs, a set of stickers such as coffee shops, burger shops, laundry shops, pharmacies, bookstores, parks, toilets, and supermarkets.
There is an automatic lifting device that can take the vehicles to the top level. Three AA batteries can power it in electric mode. Besides, it features track lights and background music which are appealing to any kid.
With three floors, there are three track designs. This parking garage is where the vehicle can run from the highest floor to the lowest one. There is an exit on the first floor where the cars can drive out from. There is also an elevator for cars to climb back up, creating an endless loop of fun.
Moreover, there is an option to raise and lower the elevator manually. By rotating the groove by hand, the vehicle can rise. This option is environmentally friendly and can exercise toddlers' coordination.
It is an excellent opportunity to teach children about road signs, proper parking, and choosing the right lane. They can familiarize themselves with various traffic vehicles and increase their traffic knowledge at a young age. Role-playing also helps develop hand-foot coordination, communication skills, and more.
Pros
Variety of accessories
Three track design
Automatic lifting device
Educational and entertaining
Cons
The levels can come off easily
Advantage:
However, there is a minor issue that I want to address. The levels can sometimes come off easily. It is crucial to make sure that everything is appropriately attached before each play.
Disadvantage:
A toy racing track is more thrilling when the vehicle slides down several levels from the top. That is what this track set is all about and much more.
Factors to Consider When Choosing Race Tracks for 4-Year-Olds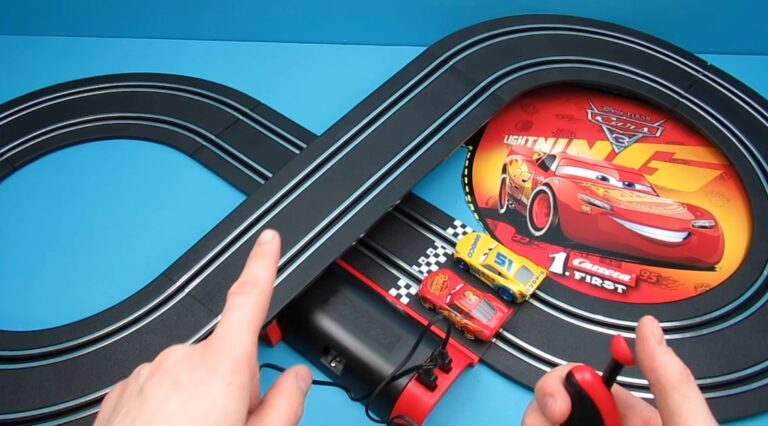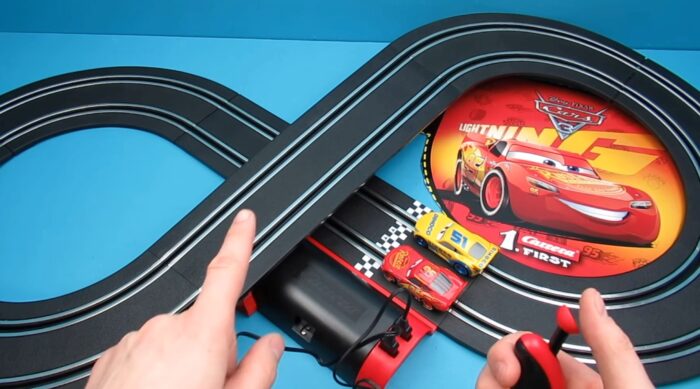 Electric toy race car track sets come with a wide range of varying features and functionality. It is what makes them different from one another, and what suits other toddlers might not be the best for your child. Narrowing down your list can be tricky, but these factors will help you do it with ease.
1. Age Range
There are tons of different race tracks in the market, and each one of them has a recommended age on the package. While you can disregard these in some cases depending on your kid's ability, you should consider these most of the time. The suitable toy can vary for each child depending on their age. Young ones should play with toys that are easy to hold and have no small parts to avoid choking hazards. Older children can challenge more complicated and detailed playsets.
2. Material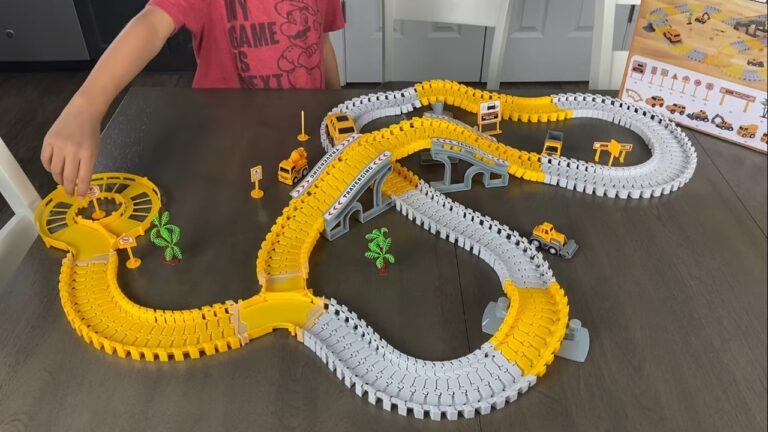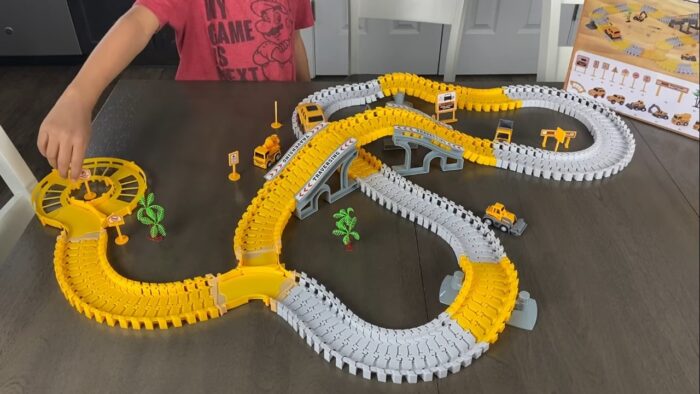 Many of us are working on minimizing our impact on the planet, which means going for eco-friendly options when we can. There are toys made of durable and long-lasting materials that do not harm the environment. Wooden toys fit into this category. If you want to opt for plastic, there are recycled alternatives that have less impact. Also, don't forget to check if the substances used to make the toy are safe and non-toxic.
3. Power Source
Manual track sets are relatively good. There are ones that use electricity to run the cars continuously while others rely on batteries to run. The electric toy cars do not need replacement, but the batteries are portable and a bit safer.
4. Compatibility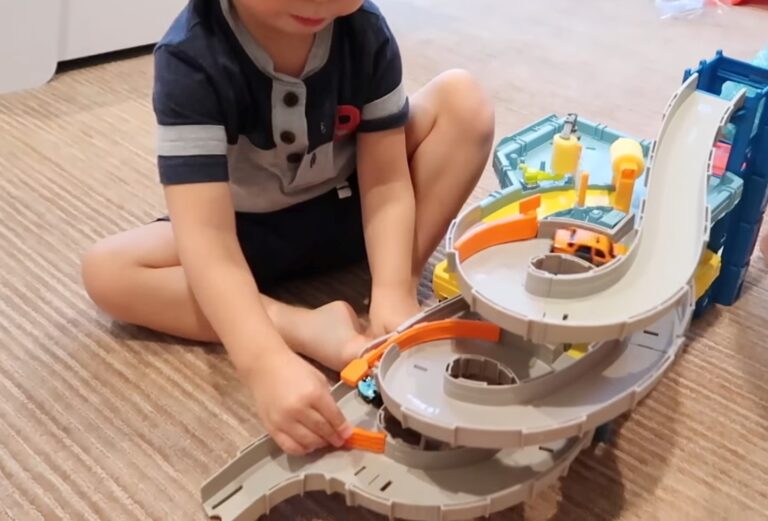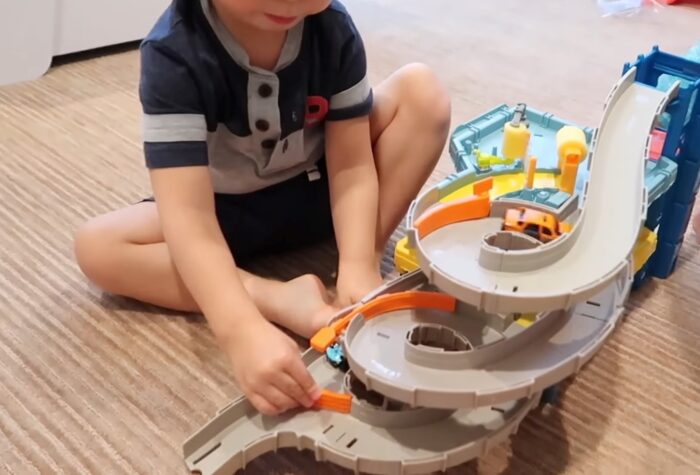 If you plan to expand your set in the near future, it is vital to consider its compatibility with other track sets in the market. There are modular playsets that work with each seamlessly. Sticking with the brand where you got your track set might be your best shot.
5. Educational Value
Most toys sold in the market are educational. However, it is still important to make sure that they are. Pick race car tracks that can teach children vital skills they need growing up. Some are problem-solving skills, fine and gross motor skills, and imagination and creativity.
The Different Types of Race Tracks for 4-Year-Olds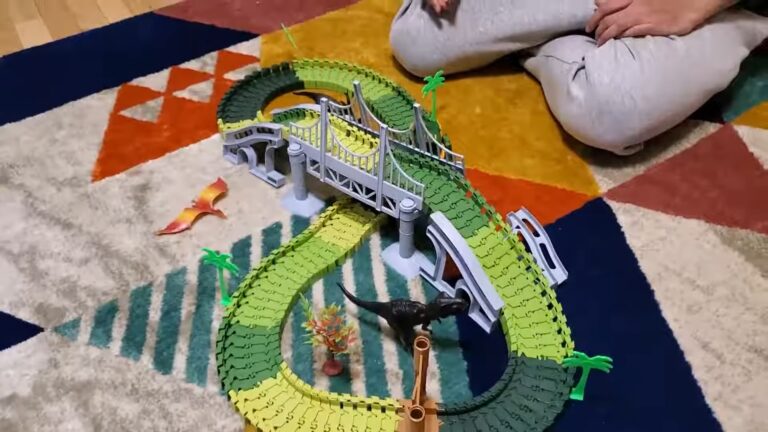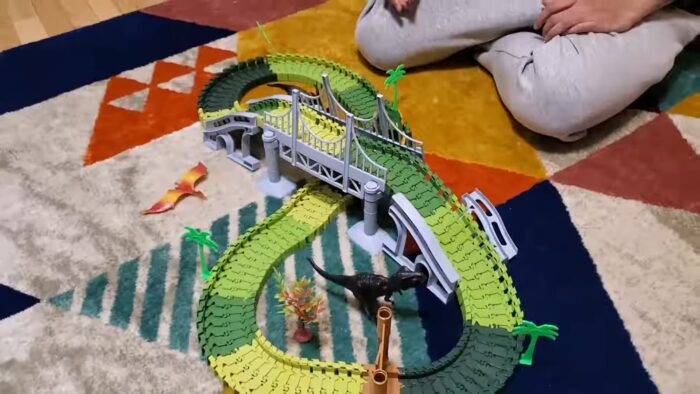 Toy race car track sets come in different kinds and fuel your little ones' imagination. Its type is an important thing you should think about carefully. To get you started, here are three of the most common race track varieties you will encounter.
This is pretty much self-explanatory; it is a race track toy where the child manually pushes the car around. The railway can be in any form or shape, and the little ones can create their own stories and scenarios. It is a suitable toy even for older children.
The motorized are often powered vehicles. They are often run by batteries and can run using a controller that comes with the toy set. It is perfect for curious kids who love to watch the motion of the vehicles around the tracks.
This is for children who love speed and adventure. The highlight of launchers is racing and stunts. It offers high-paced play, an excellent opportunity to socialize with others while having a good time.
Benefits and Drawbacks of Race Tracks for 4-year-olds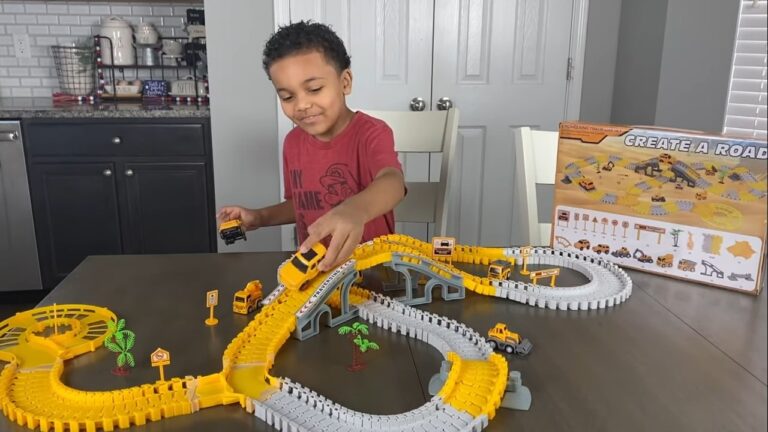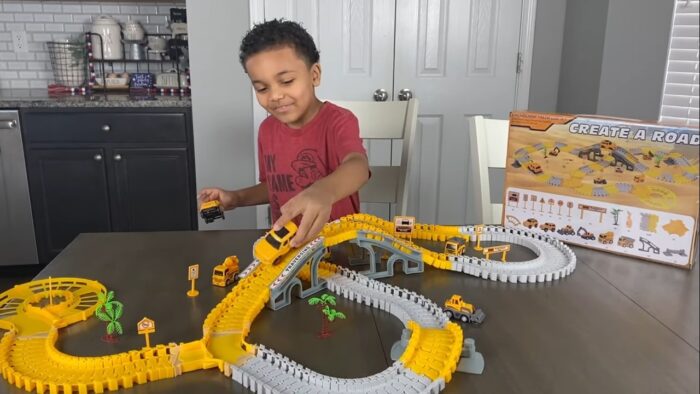 Is this your first time buying your kid a race car track toy? You might need a comparison of the pros and cons of purchasing a race track toy. We have this one ready for you.
Advantages
Teaches important skills
Encourages creativity and imagination
Variety of track design
Accessory items included
Appealing to a wide range of age
Disadvantages
No instruction manual included
Some parts are too small
Cars cannot be turned off
There is no one-size-fits-all kids race track. Finding a toy that specifically meets a little one's needs is challenging, but as you can see, it is worth it. With all the benefits your toddler will get, it is undoubtedly a worthy investment.
What Are the Most Trusted Race Tracks for 4-year-olds Brands?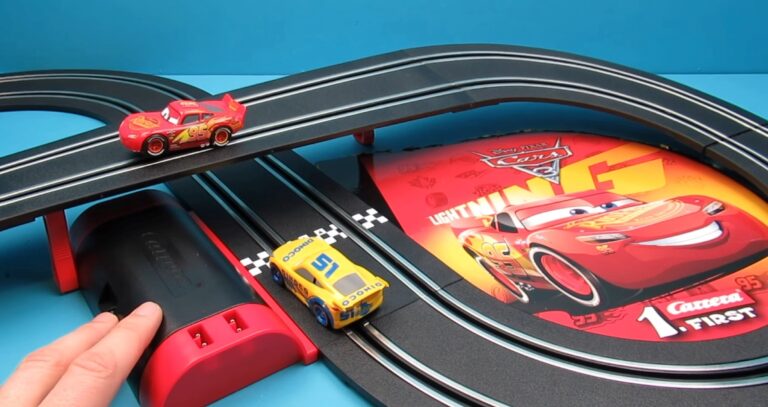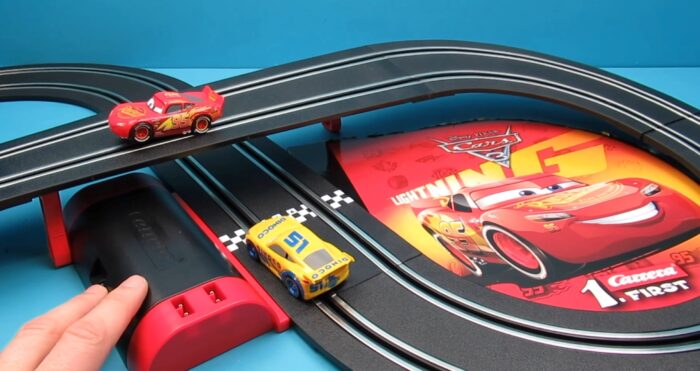 There are many race track toys for 4-year-olds in the market and if you want to invest in some good ones, finding the most trusted brands is the key. Check out the following race track toy companies that make some of the best playsets for children.
Fisher-Price
Carrera
Top Bright
VTech
Disney Pixar Cars
What Is the Best Place for Race Tracks for 4-year-olds
When assembling and playing a race track set, it is vital to find a flat and even surface, like a wide table or on the floor. That way, you can connect the tracks firmly without any bumps or obstructions. In addition, make sure to have enough space to build the tracks conveniently.
Conclusion
The best race tracks for 4-year-olds could be the key to an exciting playtime and thrilling bonding time with the whole family. It might be waiting for you out there to find it and bring it home. With our product reviews and buying guide, we hope that we have made the process easier for you. No need to do research and visit several sites when you have all the things you need to know in this article.
Do you know someone who is searching for a good race track toy? Share this with them, and if you have any tips on how to land a good toy for toddlers, comment below. It is always a delight to hear from you.