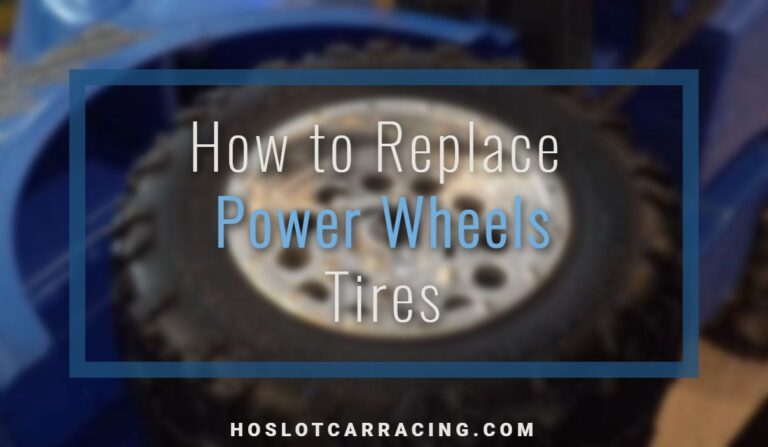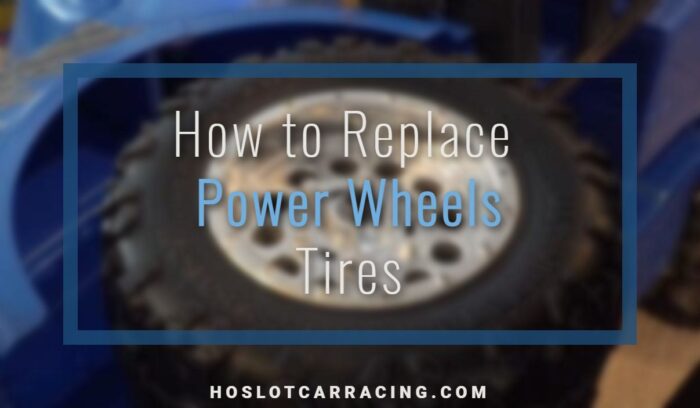 Is your kid's power wheel struggling to make it down the driveway? Its wheels are probably near the end of their life and can't take it anymore. But it doesn't mean you have to replace the whole unit. You can improve its drivability and bring it back to life by changing the toy car's tires with new ones.
Tires lose their traction after repeated use. You can tell this when the power wheel starts slipping on some surfaces. Obvious cracks and signs of worn-out wear also require replacement. Another reason for slippery tires that can break is because plastic tires are mainly used in ride-on vehicles. So, parents might want to put rubber tires on power wheels even if the plastic tires are still in good condition.
This task can be new to some, and after searching 'how to replace power wheels tires,' you find yourself here. We will put your mind at ease with a simple step-by-step tutorial. It will take only a few hours of your time from preparing the needed tools to carrying out the actual process.
Steps to Replace Power Wheels Tires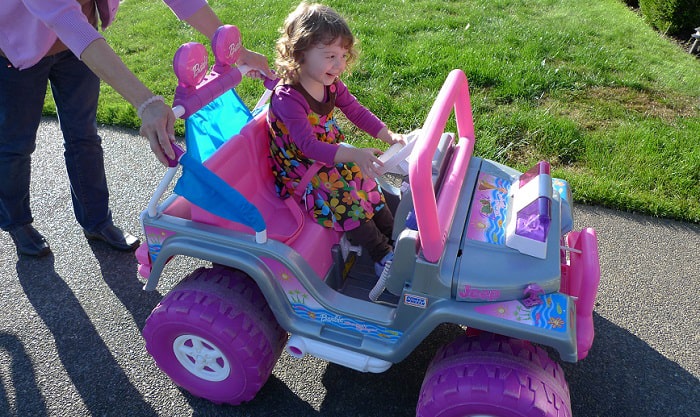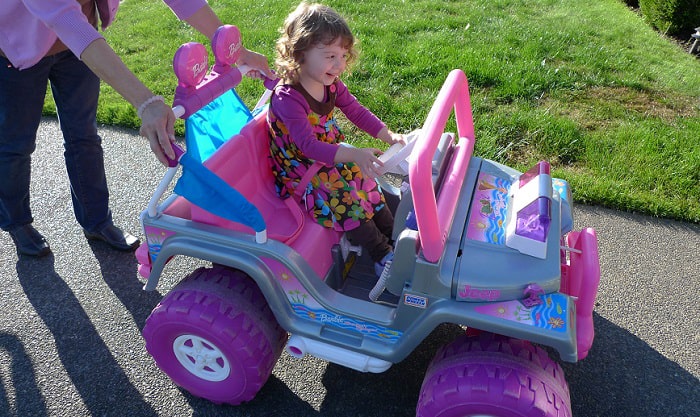 Most ride-on vehicles have the same design, but this doesn't mean that their parts are interchangeable. Before the power wheels tire replacement, make sure to consider the size, thickness, diameter, and thread of the replacement part. We have two tutorials, one for plastic tires and the other for rubber tires.
Replacing Plastic Power Wheels Tires
What you'll need:
Flat screwdriver
Hammer
Replacement tires
Step 1: Elevate the power wheel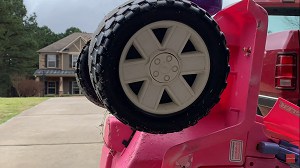 Choose a spacious area for convenience. Elevate or turn the vehicle upright on the rear so it is easier to access the wheels. Make sure that it is steady.
Step 2: Loosen the hubcaps and retainers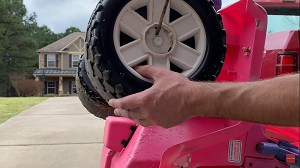 Remove the retainer caps. Slip the flat screwdriver between the lid and the hubcap to lift off the retainer cap.
Step 3: Remove the tires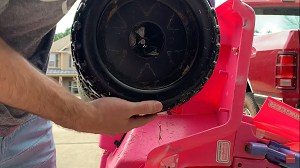 Take off all the tires and place them in a separate location to avoid mix-ups. Clean the axles with a wet cloth.
Step 4: Replace with new ones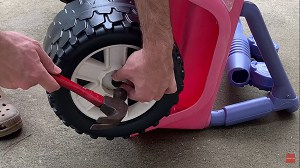 Take one new tire at a time and attach them in place. Install the hubcap then the new retainers after placing the wheel in place. The hammer will help push the parts in place but use moderate force to prevent breaking the pieces.
Step 5: A test drive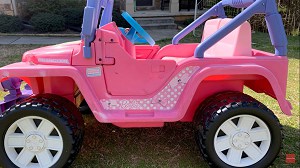 Check the wheels to ensure they are stable when the power wheel is on the ground. Let your kid take it for a test drive while you are watching. See if the wheels are spinning well.
Replacing Rubber Power Wheels Tires
What you'll need:
Scissor
Screws
Wirecutter
Screwdriver drill/manual screwdriver
Two to three bicycle tires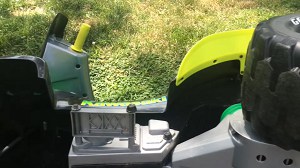 Step 1: Overturn the power wheel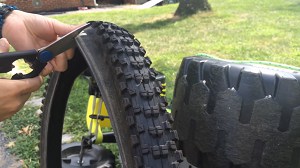 Overturn the ride-on vehicle to have easy access to the wheels. Clean the tires of any debris, grass, and mud.
Step 2: Remove rubber tire sidewalls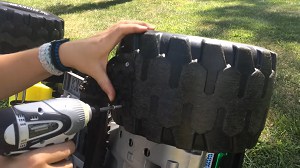 Cut the bicycle tires and remove their side walls evenly with a scissor. Wear gloves to help avoid injuries.
Step 3: Place the cut rubber on plastic tires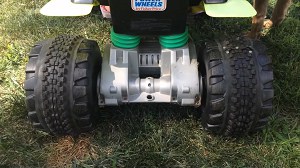 Set the bike tires on the plastic tires of the power wheel. Drill two to three screws on the surface. Then, stretch the rubber tire covering the entire plastic tire. After making sure that the tire is not sagging, drill the screws again.
Step 4: A test drive
Turn the power wheel the right way and check the wheels. Let your kid take it for a test drive under your supervision.
There can be a slight difference in the set of instructions since each powered wheel is designed and built differently. Some ride-on cars have a plastic cap concealing the center nut. Others do not have a push nut that you can hammer back on, so you might need to use a different tool to reattach the piece.
Frequently Asked Questions About Power Wheels Tires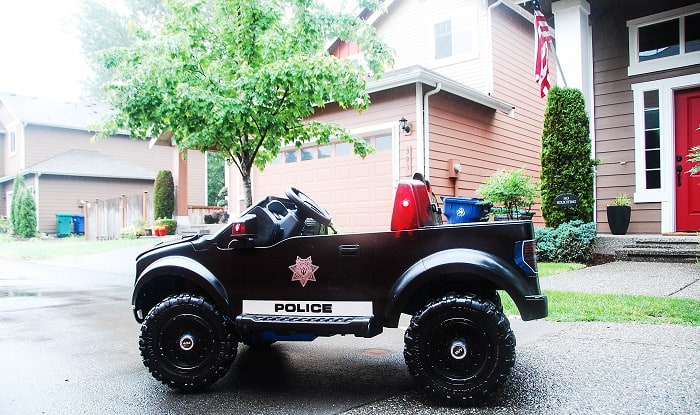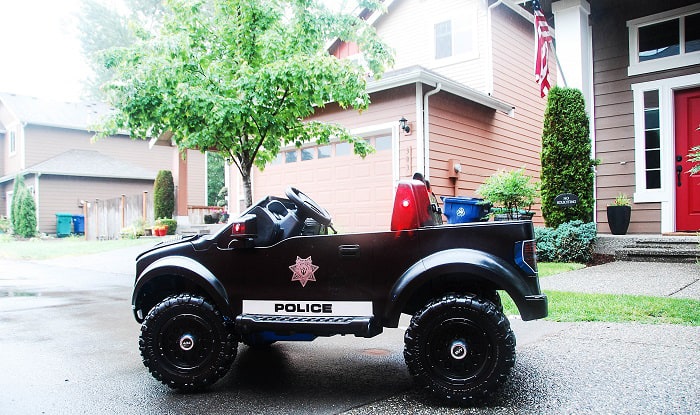 There are several commonly asked questions about power wheels problems solutions, especially regarding tire issues and replacement. Here, we have compiled some of them and provided helpful answers.
1. Can you replace plastic tires with rubber tires on power wheels?
Yes. Rubber tires are better than plastic tires since they provide enhanced traction on most terrains. Rubber tires can also significantly improve the overall performance of the power wheel.
2. What are the indications of worn-out power wheel tires?
When you start to notice cracks or bent parts on the outer cover of the wheel, it may be time to replace the tires. Other indications include poor traction due to worn-out thread and off-balance. If your kid happens to run over a nail while driving their toy car, the tires will need replacement.
3. Are power wheels tires interchangeable?
No. Each model and brand manufactures specific tires for their power wheels, which come in a unique build. When choosing new tires, it is crucial to opt for one compatible with your child's unit. Otherwise, it will alter the performance of the ride-on vehicle.
4. Are there cheap replacements for power wheels tires?
Yes. Several parties independently produce replacement tires for ride-on vehicles at an affordable price. But they are not as good as the ones sold by original manufacturers. Besides, you need to modify the cheap replacement tires, unlike the ones from the manufacturer of the power wheel, where the tires have accurate specifications for a smooth replacement process.
5. Can you make the power wheels tire grip last?
Yes. You can make upgrades on your toddler's power wheels by adding a well-treaded rubber tire on the plastic surface of the plastic tires. It can improve the overall grip of the tires and provide prolonged traction.
Replacement Tires for Power Wheels
The best replacement tires for power wheels differ depending on the brand and the model of the ride-on vehicle. There are several high-quality replacement tires on the market, and we have some of them below.
1. Peg Perego XUV Rear Wheels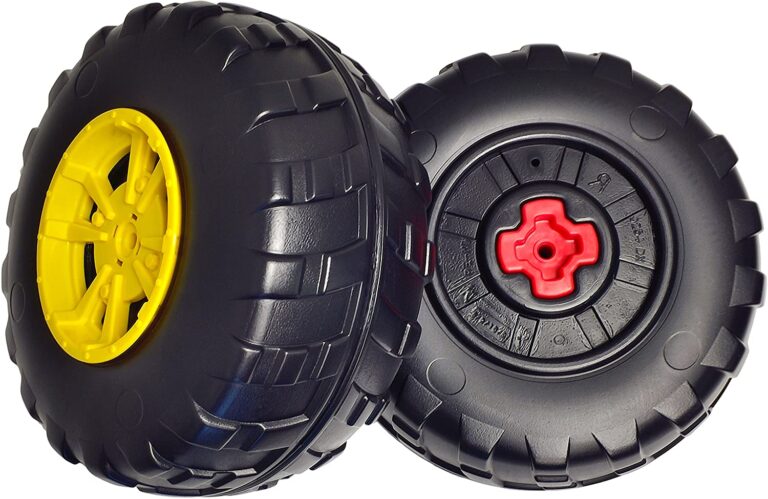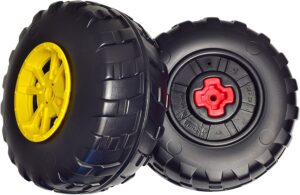 This is a set of two replacement rear wheels manufactured specifically for its John Deere Gator ride-on vehicle. It is compatible with four models of this power wheel. The tires weigh seven pounds and fit perfectly for the units listed in the product description.
2. Proline 118411 Trencher 3.8″ All Terrain Tire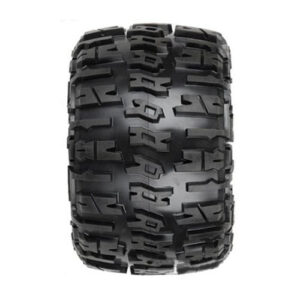 This all-terrain tire features an aggressive and stunning wheel and tire design. It has an ultimate bashing set-up and molded-in bead-loc ring for the scale look. The wheel size is 3.8 inches and is fixed.
3. RamPro 10″ All-Purpose Utility Air Tires/Wheels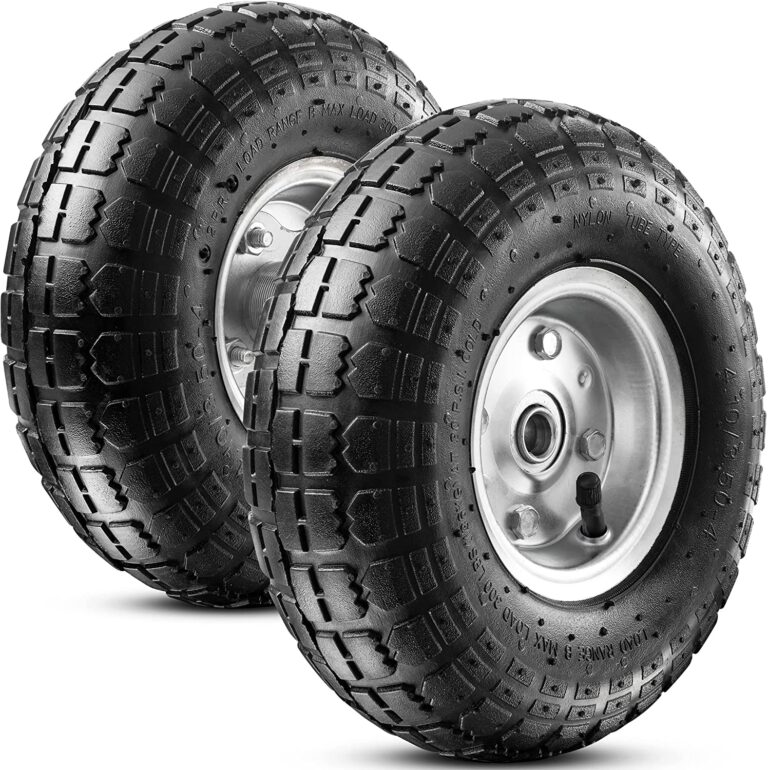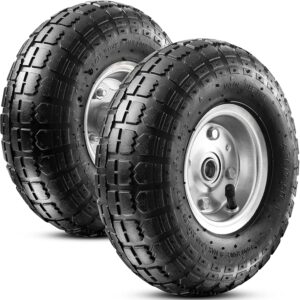 This set of air tires has a 5/8 inches diameter hole and double-sealed bearings. It is ready to install and works as an ideal replacement for power wheels and hand trucks. The rubber is high-quality and heavy-duty, so you can expect it to last a long time of use.
Final Thoughts
Replacing your child's ride-on vehicle tires is easier than you might think. It can be a fun DIY project for parents who have some spare time and patience. As long as you have the right tools and power wheels replacement wheels, you can complete the task in a breeze. You can opt for a plastic or rubber tire upgrade, depending on your preference.
Aside from the tutorial and FAQ section, we also added some tire replacement products for you to consider. We hope this article on how to replace power wheels tires can help you get your toddler back in the driver's seat with better tires that can take on all terrains. If you know someone who needs this information, shares the content with them. Leave your comments below. We love hearing from you