Knowing the difference between 12v vs 24v power wheels is essential if you want to pick a suitable ride-on vehicle for your little ones. Both 12v and 24v power wheels have benefits and disadvantages one must contemplate.
To make an informed decision, it is vital to know that current, voltage and speed limits also matter. Newbabywish provides some great options if you have already decided  which one to choose. If you didn't make a decision then this article will be of great help for you.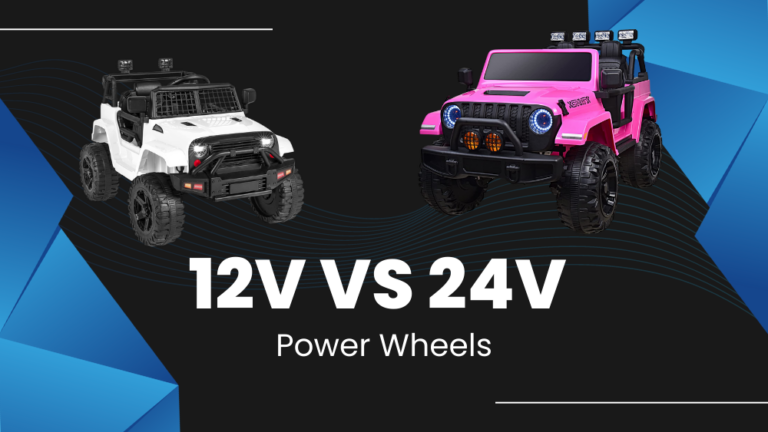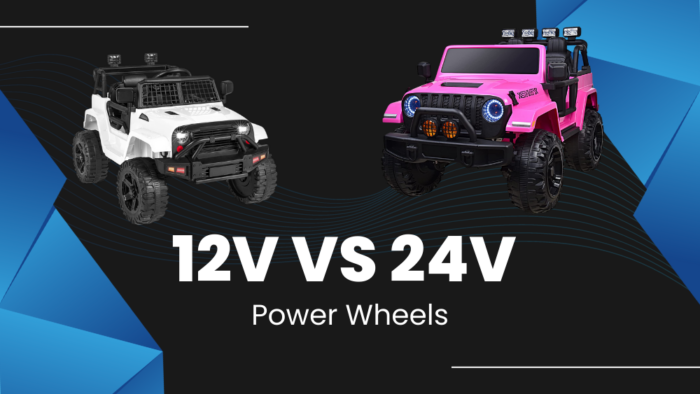 There are many toy cars sold in the market, so making a sound choice can be challenging. That is why it is crucial to get to know the most common kinds of power wheels.
When buying a toy for a child, some people prioritize entertainment over everything else. If you follow this, you will end up with something fun but not beneficial for your kid. Entertainment should take a back seat, especially when you are deciding on which power wheels to purchase. There are a lot of things to examine and familiarize yourself with.
For example, you will often encounter 12 volt vs. 24 volt and 24 volt vs. 12 volt. Aren't they the same thing? What's the difference? It will raise questions that demand answers before you can move forward. Here, we have the fundamental information you need.
The "v" attached to these numbers stands for volts. It is a unit of measure for electric power that determines the power needed to run a motor. The concept here is the higher the voltage, the more powerful and faster the vehicle can go. In addition, more power means a greater ability to manage rough surfaces and terrains. Let's take a closer look at each option and break down the pros and cons.
12 Volt vs. 24 Volt Power Wheels
12V Power Wheels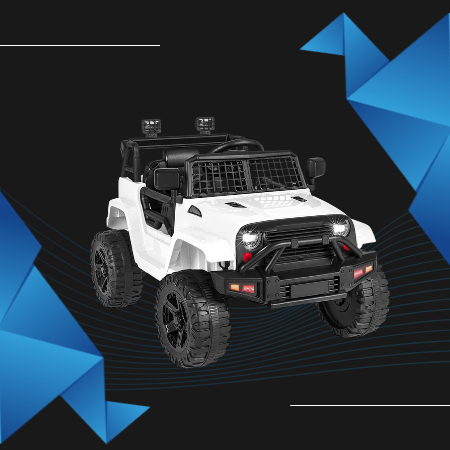 Ride-on vehicles with 12v batteries are recommended for kids between three to six years old. The toy can run for around one to two hours at a maximum speed of 5 mph.
Pros
Suitable for the outdoors
Rides well on gravel, grass, and tarmac surfaces
For children aged three to six years
Cons
Needs a level surface for best performance
Draws 2x the current than a 24-volt power wheel
Not ideal for driving on steep surfaces
Recommendations
Rollplay 12V Powersport ATV Quad
The realistic design of this quad is not the only impressive thing about it. The thrilling speed and functional features create a fun experience for kids. There are working headlights and authentic sounds as well.
Kid Trax Yamaha ATV Electric Ride On Toy
This 12v power wheel operates well on the driveway or backyard. It features actual foot pedal acceleration and working suspension, and power Trax rubber. Your little one will surely have a smooth and steady ride with this toy car.
24V Power Wheels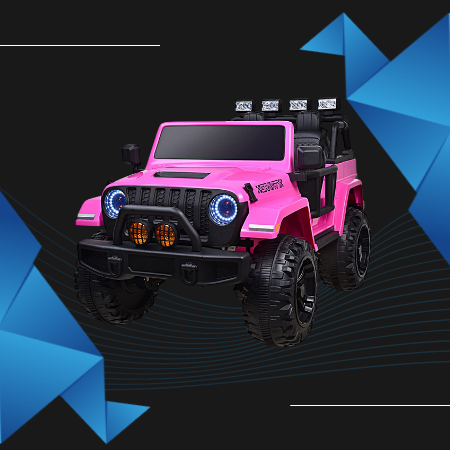 Toy cars with 24v batteries are designed for kids between six to nine years old. Its battery life can operate for two to four hours with a maximum speed of 6 mph.
Pros
Can take on any kind of terrain
Long battery life compared to a 12-volt power wheel
Can last up to four hours of operation
For children aged six to nine years
Cons
Not ideal for younger toddlers
Caution is necessary at all times
Recommendations
Razor Dirt Quad – 24V Electric 4-Wheeler ATV
This 24v power wheel features shatter-resistant plastic fairings and tubular frames. It is capable of enduring all weather conditions. You also get vertical and space-saving storage for your kid's smaller toys.
sopbost 24V Kids Ride On Car with Remote Control
This 2-seater power wheel comes with an openable hood and doors. Adults can operate it using a remote control. Your kids can enjoy driving around with their favorite tunes, thanks to the music function of this toy car.
The recommended products we've included are only some of the best you can find in the market. There are other good ones out there just waiting for you to discover them.
Choosing the Best Power Wheel Voltage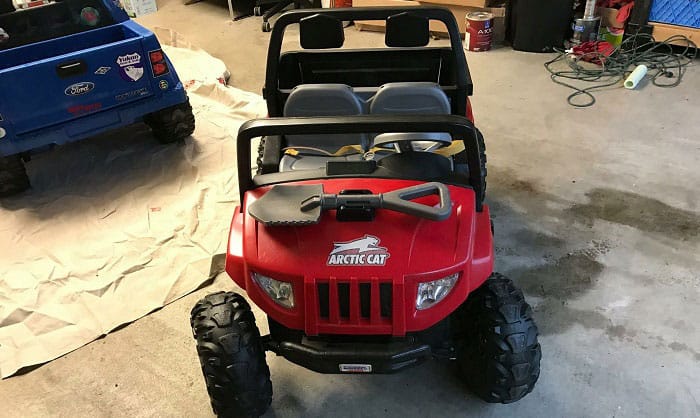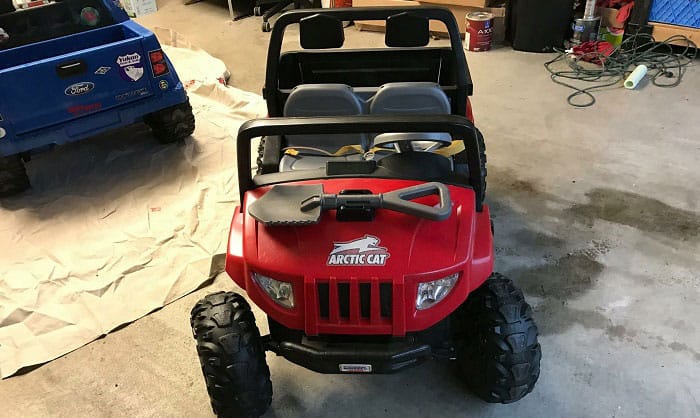 The difference between 12v and 24v batteries is something every adult should know if they are looking to purchase a suitable ride-on vehicle for a child. It can be intimidating and challenging to land the best choice, but the process can be effortless when you know the crucial factors to look for. To help you, we have these three things you should carefully consider.
The proper current is needed; otherwise, it will damage the motor. Motors are designed to run at a specific rpm at the stated applied voltage and specific loading. That way, the motor takes its maximum continuous current. On a lighter load, the current consumption is reduced, resulting in a slightly higher speed.
This keeps the current flowing in a direction to overcome the back currently. With a higher voltage comes a higher torque; thus, it is necessary to apply the recommended voltage. If fewer volts are applied, the motor will not work, and too much will result in power loss or complete destruction.
The speed limit is not simply the bearing quality but also the limitation on how hard you can rev a motor. The commutator and the brush design play an essential role in managing the brush arcing as well.
There's also the kid's age, their skills, the available range, and the safety of the unit. Make sure to opt for only the best quality product from the official store, especially when buying online.
If you can, head to the nearest local store in your area. You can also get advice from the seller who is probably well-versed in power wheels.
Frequently Asked Questions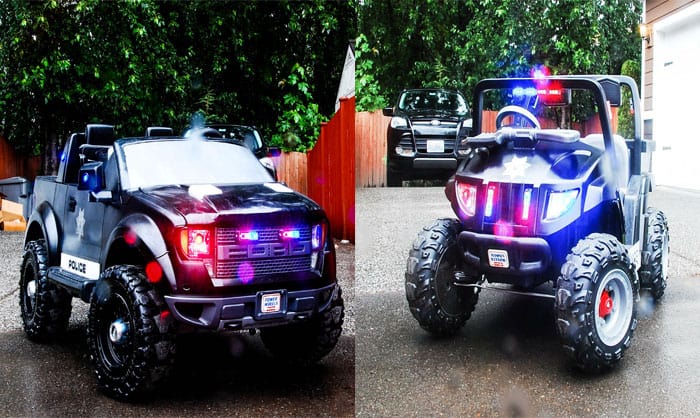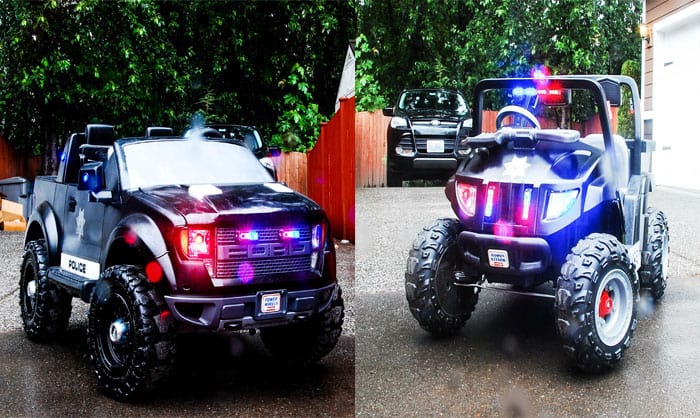 People who are buying a power wheel for the first time often have many questions to ask. Here, we will try to answer the most frequently asked questions regarding ride-on toys and their corresponding voltage.
Which is faster? 12V or 24V?
Ride-on toys with 24v batteries can run a speed of up to 6 mph, while those with 12v can reach a maximum of 5 mph. However, the maximum rate per hour is not the only factor that affects the actual speed of the power wheel. There's also the terrain and the weight of the rider.
Can you make 12V faster?
Some parents prefer upgrading their toddler's power wheel when they outgrow them instead of buying new ones. There are several methods you can use to make a 12v ride-on vehicle faster. You can either install a new motor or an aftermarket battery. Many tutorials are available on the Internet; you can check them out.
How to tell if my kid's power wheel is 12v or 24v?
When you first buy the power wheel, the product description and the manual in the package indicate what voltage the toy is. But if it was years ago and you already forgot, you can get the information by checking the parts. You can find it on the fuse box and breakers. If you want an accurate way, use a meter on the battery.
Final Thoughts
Deciding between 12V vs 24V power wheels is tough, but it is easier to choose when you have all the vital information. One of the most important factors to consider is your toddler's need and experience in riding a power wheel.
Take your time in browsing and narrowing your options. Make sure that the motorized toy you pick is not only entertaining but also safe. It should provide fun playtime and help in your children's development growing up.
We hope that after reading this article, you can easily find the ideal ride-on vehicle voltage. If you know someone having a hard time picking out a power wheel for their little ones, share this content with them. For those who bought their kid's ride-on car with the help of this guide, tell us about your experience. We love hearing from you!