The table below lists all track sections currently available from Tomy AFX, Life-Like and Tyco. Aurora Model Motoring (MM) track sections are no longer manufactured but can be readily acquired on eBay or in the used section at most larger hobby stores and slot car tracks specializing in HO Slot Car Racing.
Tomy and Tyco offer a good selection of track sections, while Like-Like/Rokar track is sold primarily as replacement sections for their boxed sets.
If you are planning a new HO raceway you would do well to incorporate Tomy AFX track in your layout. The current line of AFX track is the best available. The wide selection of turns makes it possible to create a realistic 8-lane racing circuit. The diagram below illustrates the various turn sections available as well as straight track lengths.
I stock a full line of Tomy, Tyco/Mattel and Life-Like track sections. Tyco and Life-Like track sections are listed towards the end of this page.
HO Track Dimensions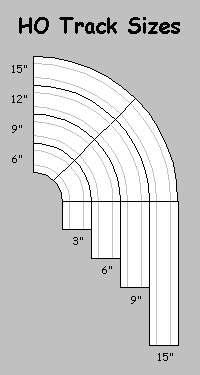 All makes of HO scale slot car track are 3″ wide. Turn radius sizes are multiples of this same 3″ modulo. Straight track lengths also adhere to the 3″ modulo making it possible to design race tracks that can be up to 8 lanes in width.
Aurora Model Motoring and Atlas track is still available on the used market, but has become something of a collectors item recently. Visit the Slot Car Auction on eBay or your local hobby shop to find this track.
Tomy AFX Track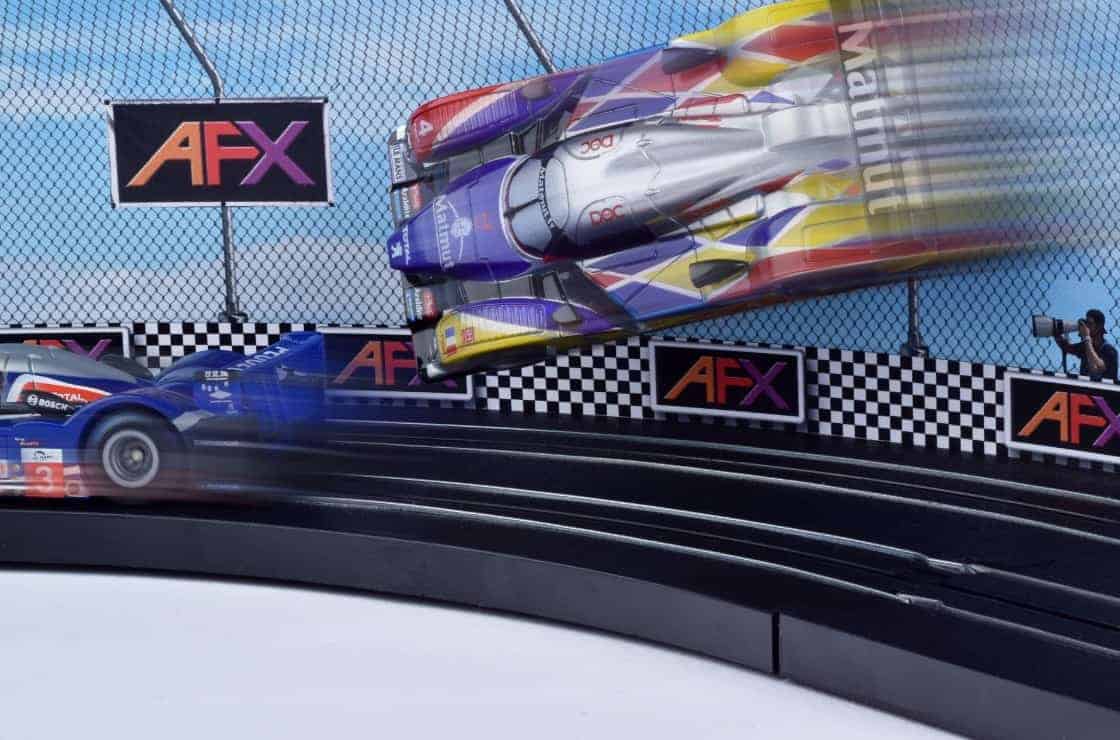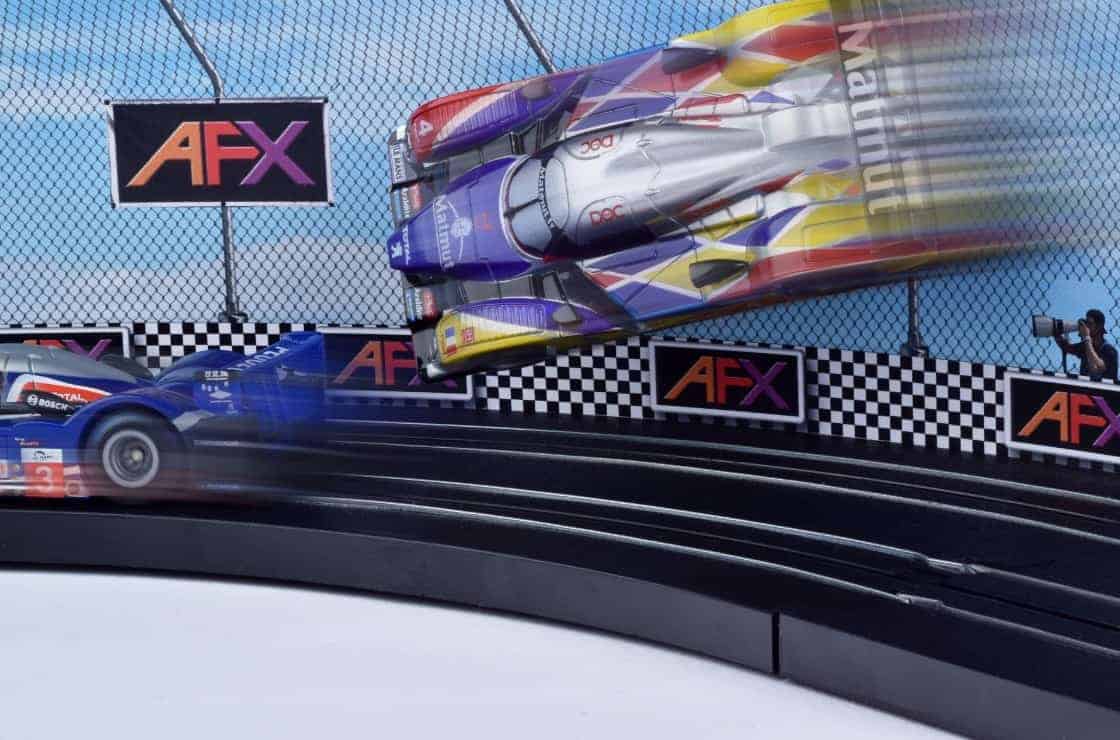 Tomy now offers realistic crash barriers that fit along the edge of any slot car track. These race baarriers can also be used with the turn borders sold below.
These race barriers work well to keep your precious slot cars off the floor and on the table. One set of barriers will protect over 7 feet of track.
These barriers are made from a flexible plastic material that will conform to any turn configuration your layout might have.
Tomy AFX Digital 2-Lane Lap Counter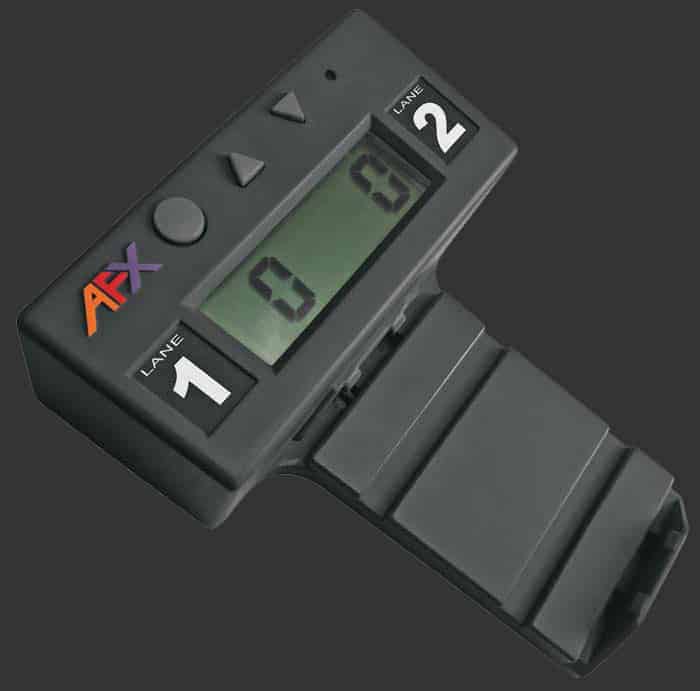 Tomy has just released their brand new stand-alone AFX Digital 2-Lane Lap Counter, just in time for Christmas.
This unit will count laps without the need for an expensive computer or tablet device.
Two units can also be linked together to form a 4-lane lap counter system using the cable included with each unit.
Races of up to 99 laps can be run with this new unit. Racers who jump the start are automatically penalized 1 lap!
Lane number stickers 1-4 are included for labeling your track and the Lap Counter itself.
Each Lap Counter runs on 3 AAA batteries (not included.) Setup is easy using the instructions printed on the package.
View Tomy AFX Digital 2-Lane Lap Counter in Pop-Up Window Tomy AFX Digital 2-Lane Lap Counter $46.99
Add Tomy AFX Digital 2-Lane Lap Counter to Shopping Cart
Tomy AFX Holographic Pit Stop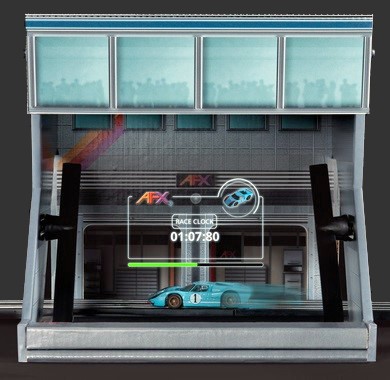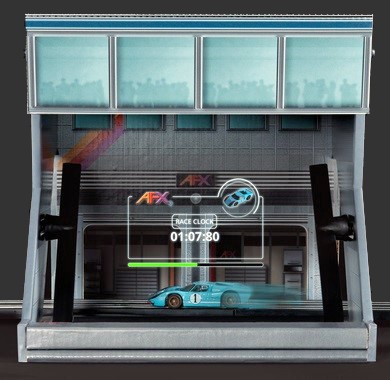 Tomy's Holographic Pit Stop is an entirely new type of lap counter/timer.
It works with any straight section of Tomy AFX track. Two units can be combined for 4-lane raceways.
A short video highlighting its operation has been produced to better illustrate this exciting new product.
View AFX Pit Stop Holographic Theater in Pop-Up Window AFX Pit Stop Holographic Theater $74.99
Add AFX Pit Stop Holographic Theater to Shopping Cart
Adapter Tracks
HO Slot Car track from different manufacturers can be combined using adapter track sections. Life-Like and Tomy both make track adapters as described below. Model Motoring users, see the notes below.
Note: Tomy AFX and Aurora A/FX track use a different track joining system, so to combine the older Aurora A/FX Snap-Lock track with current-day Tomy AFX track you will need to purchase the Tomy AFX 3″ Aurora Adapters listed above.
Model Motoring Owners: The Tomy AFX 3″ Aurora Adaptor Pair listed above can be modified to join the original Aurora Model Motoring Lock & Joiner track to modern Tomy AFX track.
To do this, cut off the small tab on the "Aurora A/FX Snap-Lock" end of the adapter and bend the rail ends in the opposite direction so that they will match up with the rail ends of the original Aurora Model Motoring track sections.
This technique works best for tracks fastened to a wooden table.
HO Track Turn Borders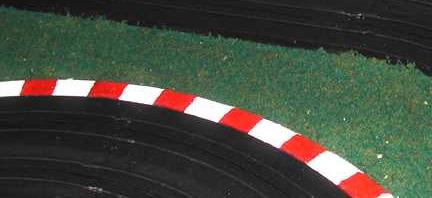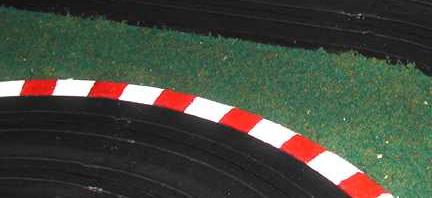 I'm now stocking MDF wooden turn borders. These CNC precision-milled borders fit any brand of HO slot car track and can be painted, or covered with my FISA tape kit.
Precision cut from MDF and exactly the right height to create flush mounting turn aprons for both outside and inner turn radius sizes.
They can be secured to a table top using glue, nails, screws or 3M double-sided tape.
HO Track Spotters Guide
Shown below are some of the various types of HO Slot Car track that have been manufactured over the years.
Aurora Model Motoring Lock & Joiner Track
The original Model Motoring track that started it all. This track was manufactured during the 1960's and early into the 1970's. Track sections where fastened together with steel joiner pins and small U-shaped locks made from either metal, or later on, Nylon.
The metal power rails were formed into small tabs at the edge of each section. These tabs pressed against the adjoining track's power rails to form an electrical connection between track sections.
Aurora A/FX Snap-Lock Track
Aurora introduced a new and improved track system in the 1970's to replace the original Lock & Joiner system. The steel pins and U-shaped clips found on the original Model Motoring track were eliminated in favor of a track that simply snapped together.
Aurora introduced this new track system at the same time they brought out their new Aurora Factory Experimental (A/FX) chassis. This new track had a slightly deeper slot, and an improved connecting system that snapped and locked track sections together. The plastic tabs on these tracks often broke however, when the track was assembled and taken apart many times. Aurora Track Repair Clips are still available to join A/FX track that has broken tabs.
Track Cleaning Tips
Plastic HO Slot Car track needs to be cleaned from time to time. Under normal use oil from the cars will be deposited on the plastic track surface. This thin film of oil will attract and hold dust and dirt.
The best way that I have found to clean plastic HO Slot Car track is to use Formula 409 Professional Heavy Duty Cleaner. Use the Green De-Greaser formulation and spray it on a soft, lint-free rag. Wipe the entire track with your dampened rag and then follow up with a clean dry cloth.
The metal power rails used in plastic HO Slot Car track oxidize with age. The easiest way to remove this built up oxidation is by rubbing a silver coin on a pair of lane rails. Press the coin firmly against a pair of lane rails and move the coin around the entire track in the same direction the cars normally race. Repeat this process for each lane. A Nickel seems to work the best for this.
To slow the inevitable return of rail oxidation apply a product such as Track Zip to the lane rails once a month. Track Zip can be found at most hobby shops in the Model Railroading Department.
Track Mounting Tips
Plastic track sections such as those manufactured by Tomy and Tyco/Mattel will normally produce a click-clack sound when fastened directly to a wood table top. To avoid this toy-like sound and to produce a smother running race track place a sound dampening layer between the wooden table top and your track.
Two materials are readily available to dampen the sound of cars running on a plastic track. When glued directly to a wooden table top they will greatly reduce the sound normally associated with plastic HO Slot Car Track.
Homasote, or sound board, can be glued directly to a wooden table top and painted a dark green. Homasote is available in 4 x 8 foot sheets at most building supply centers. Sound board has a tendency to collect dust though, so make sure you seal it with a good grade of Latex® paint.
Carpet also makes a good sound deadening material, Select carpet with a short, closed weave. Indoor/Outdoor carpeting composed of a felt-like fabric works about the best. Glue the carpet directly to the wooden table top and then mount your track.
See the Construction section of this web site for photographs of Homasote sound board applied to a plywood table top.
For the ultimate sound damping treatment glue a layer of Homasote directly to your wooden table top and then glue a layer of carpet to the sound board. This makes a remarkably silent racing substrate. If you elect to go with the two-ply sound dampening treatment you can skip painting the Homasote layer, as it will be covered by the carpeting.
Nail plastic track sections to the table top using 1 Inch No 17 Nails with a full flat head. Do not use finishing nails. Finishing nails do not have a large enough head and will allow the track to eventually work itself loose.
Each section of HO track has a small nail hole at each end. Use each and every nail hole provided to securely mount the track to the table top. Use a nail set to drive each nail home as it nears the track surface. When a nail is flush with the track's surface use the nail set to drive the nail in just a bit further. Each nail head should form a small dimple were it meets the track.
Do not concern yourself with these dimples, as they will be removed in the next phase of construction. When mounting the track also make certain that there are no gaps between the inner and outer track sections that make up the width of a 4-lane layout.
With the track firmly attached to the table you need to remove the dimples created by the previous track mounting step. To do this, use a small soldering iron with a pencil tip. That is, a tip that comes to a point. Do not use a flat tip with an end like a screw driver. The tip must be round and come to a single point at its end.
Place the heated soldering iron tip on the top of each nail head and hold it there until the nail head is sufficiently heated. As the nail head heats up it will melt the plastic surrounding it and allow the track section to pop back up to its normal height. This will create a perfectly countersunk nail hole and restore the track to its normal flat position. Repeat this process for each nail securing the track to the table top. If you find that you didn't drive some of the nails in deep enough use your nail set to further seat the nails before using the soldering iron.
A Permanent Black Sharpie Marking Pen can be used to "paint" the heads of the countersunk mounting nails. Coloring the nail heads black will make them all but disappear and give your racing layout a very professional appearance.
Note: Use 1″ nails to mount track if you've installed Homasote over a plywood table top. Use 3/4″ nails for bare plywood or carpeted table tops.
Track Mounting with Screws
Tomy AFX plastic sectional track can also be fastened to a wooden table using small No. 3 Flat-Head Wood Screws. If you plan to re-configure your layout from time to time then attaching the track to the table with small screws will allow you to easily make changes.
Each section of Tomy AFX track is molded with a small nail hole at either end. These small nail holes will need to be opened up and countersunk to accept a No. 3 Flat-Head Wood Screw. Use a countersinking drill bit mounted in a hand drill and carefully open the hole up until the head of a No. 3 Flat-Head Wood Screw fits flush with the track surface. Avoid using a power drill if possible, because the soft plastic will make it difficult to create the proper countersunk depth.
See the Construction section of this web site for photographs of Tomy AFX track being countersunk and mounted using No. 3 Wood Screws.
Color Coded Lanes
To add a professional finishing touch to your HO Slot Car Track you will want to color code the lanes. This will make it much easier to return a de-slotted car to the proper lane.
Plastic track sections can easily be color coded using Testors paint sticks. These paint sticks can be found at most good hobby shops and come in a variety of colors.
Select a unique color for each lane of your layout. Try to avoid using both blue and green lane markers on the same layout, as these two colors are often hard to distinguish from one another, especially by racers plagued with color blindness.
You can use blue or green as a lane marker but try to avoid using both. If you must use both blue and green on the same layout try to separate them from one another by a white or yellow lane color.
The illustration below shows a suggested color coding scheme for a 4-lane race track using Red, White, Blue and Yellow lane markers. The sequence of lane colors shown below is the HOPRA standard for 4-lane raceways.
To color code each lane of your racing layout with Testors paint sticks start by preparing the paint stick's tip on a spare piece of track. Testors paint sticks have a small chisel shaped tip. Place this tip flat against the center of the slot of a scrap piece of track and move it back and forth a few times to shape the tip.
Shape the tip of the paint stick so that a small area on each side of the slot is coated with paint. The tips are made of a felt like material and will take on the shape of the slot as the are moistened by the paint itself. Practice on a scrap piece of track first though to get the hang of it.
With the paint stick's tip properly shaped you can now paint a lane on your race track. Apply the paint in a slow even motion. Move around the entire circuit, painting a single lane at a time. You may find that two thin coats will cover much better than a single thick coat.
Repeat this process for each of the lanes on your HO Slot Car Track, and then let the paint dry over night before you race on it. If you don't let the paint thoroughly dry before you race on it your slot car's tires will invariable ruin all of your hard work.
With the lanes of your race track color coded you will also want to paint each of the driver's stations in the corresponding lane's color.
Color Coded Lane Tape
A second method of color-coding a track's lanes involves applying colored vinyl tape designed specifically for slot car tracks. This tape has a strong adhesive that will prevent lifting and should give years and years of trouble-free use.
A 4-Lane Track Tape Kit includes four (4) rolls of 1/8″ wide tape. Each roll is 108 feet in length. The standard HOPRA lane colors of Red, White, Blue and Yellow are provided in this easy to use kit. Now available for $17.99.
These kits make it a simple matter to create professional results as shown below.
The flexible vinyl tape in these kits is 1/8″ wide and can easily be applied to even the tightest of turn radius sizes without stretching or lifting. Each of the four rolls included in the kit is 108 feet in length, that's enough to do most larger raceways.
The 2-lane Lap counter shown below will record up to 25 laps per lane. It can also be used on a 2-Lane Tomy AFX raceway by purchasing a pair of Tomy AFX 6″ Tyco/Mattel Adaptor tracks.The
Life-Like 9″ Power Track & Controls listed above includes two (2) hand controls permanently attached to the Power Track itself. Simply plug your DC wall pack in and you'll be racing again!
Calculating Lane Lengths
The table below lists the lane lengths for each of the five turn radius sizes. Use these lane lengths along with the standard straight lengths to calculate the actual running lap length for any HO slot car track.
Radius Inner Outer
6 Inch 2.945″ 4.123″
9 Inch 5.301″ 6.479″
12 Inch 7.657″ 8.835″
15 Inch 10.013″ 11.191″
18 Inch 12.370″ 13.548″
All lane lengths are for 1/8 Circle turns. The formula used to calculate the lane lengths shown above is:
Circumference = ((Lane Radius × 2) × 3.14159) ÷ 8