HO Slot Cars require regular maintenance. Here is a list of the tools you will need to keep your cars running their fastest.
Try to purchase the best quality tools that you can afford. Cheap tools are just that, cheap. A good quality tool will last a lifetime and make your job much easier. Stay away from the tools sold at Radio Shack, they are not very well made.
Sears is a good source for general purpose slot car tools. Their Craftsman line of tools are well made and come with a lifetime guarantee. Over the many years that I have used Craftsman Tools I have only had to return a few of them, but they always make the exchange, no questions asked.
Craftsman Tools are often made by another manufacturer and relabeled specifically for Sears. For example, a Craftsman Rotary Tool is nothing more than a relabeled Dremel Tool, while a Craftsman soldering iron is manufactured by Ungar. The only difference? A lifetime Craftsman Tool guarantee.
The Exacto line of hobby tools are well made and very useful. Their knives, tweezers and clamps are available at most hobby shops and hardware stores.
The local hardware store is a good place to find most of the general purpose supplies you will need.
The tools described below are general purpose tools that every slot car racer should own, Specialty tools such as wheel pullers and presses, as well as tire gauges and chassis fixtures can be found on the BSRT Tools page.
Jewelers Screwdrivers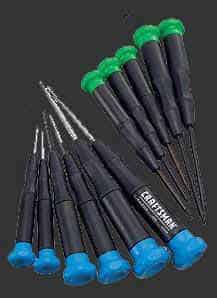 A good set of Jewelers screwdrivers are some of the tools you'll use the most. A good set will cost between $10.00 and $20.00.
Not only can they be used to tighten and loosen screws, they also work well to pop clips and an assortment of other small bits on both modern and vintage slot car chassis.
Hobby Pliers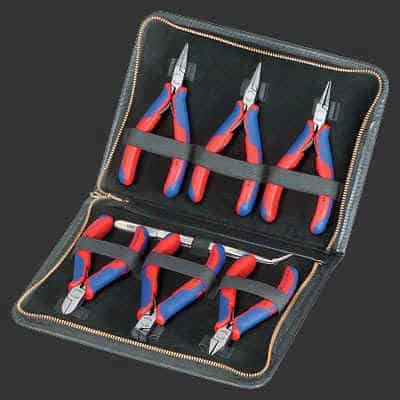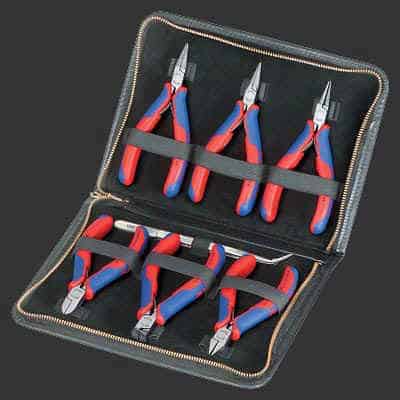 A good set of Hobby Pliers is another set of tools you'll use on a regular basis. Good quality sets run from $20.00 to $50.00.
Look for a set that includes; Needle Nose, Diagonal Cutters and Long Nose pliers. A good set should include both Round and Square jaws.
Volt-Ohm Meter (VOM)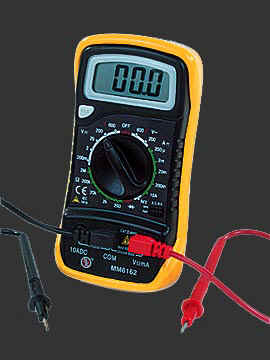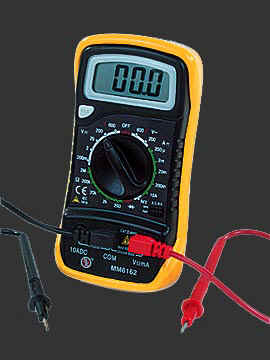 A Volt-Ohm Meter (VOM) or what many call a Multi-Meter is also a nice tools to have. Good VOMs can be found for as little as $20.00, or you can pay several hundred.
Most measure voltage, amperage and resistance along with electrical continuity.
A good Multi-Meter will track down track wiring gremlins and problems faster than anything else you can use.
Exacto Knife Set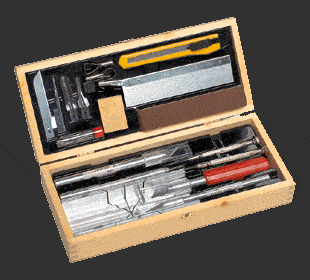 Every hobbyist needs these. Exacto makes several small sets that are ideal for slot car racers. Sets are available from $10.00 to $50.00.
Look for a set that has the standard handle for No. 11 blades as well as a large handle for specialty blades.
Larger sets that include a miter box and razor saw are an excellent choice if you plan to modify chassis or scratch-build structures and landscape your layout.
Hobby Tweezers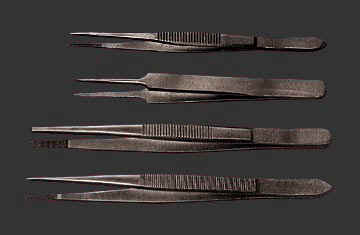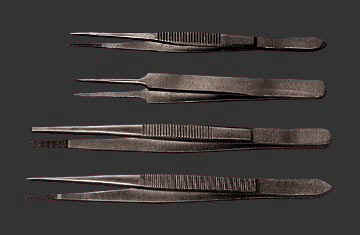 This is another set of tools you'll use regularly. A good-quality set should cost about $15.00 to $30.00.
Non-magnetic stainless steel tweezers are the nicest. They won't be drawn to the motor and traction magnets, and small metal parts won't stick to them.
Pin Vise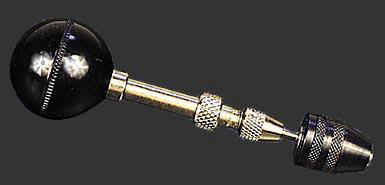 A Pin Vise can be used to hand-drill small holes and hold motor armatures and axles. A good Pin Vise will cost $10.00 to $20.00.
You'll find many other uses for this tool besides drilling. It can even be used as a handle for small files.
Drill Bit Set
Along with the Pin Vise shown above, a set of small drill bits will allow you to drill just the right size hole for any number of applications.
Hobby drill bits range in size from #60 to #80, with #80 being the smallest (0.0135 inch.) Expect to pay about $20.00 to $35.00 for a good set.
Jewelers Files
A set of Jewelers Diamond Files are perfect for filing small metal and plastic parts on slot car chassis and body shells. The diamond coating makes them cut efficiently and accurately.
A good set including flat and round shapes runs about $15.00 to $25.00 dollars.
Hobby Vise
A good Hobby Vise is another one of those tools you'll use all the time. Try to avoid the cheap copies made in China. Their jaws will damage delicate small parts.
The PanaVise company makes a complete line of small hobby and electronics vises, bases and jaw sets.
You'll pay from $30.00 to $100.00 for a good PanaVise depending upon the vise model and base you select, but it's a tool you'll use forever.
10x Inspection Magnifier
HO slot cars are small, and the parts that make up a slot car chassis are even smaller. A good bench magnifier will make it much easier to inspect the small bits that go into a slot car.
A 10x bench magnifier will cost around $10.00. It's money well spent.
Dremel Rotary Tool
This tool has hundreds of uses. No HO racer should be without one. Dremel Tools are available in both AC powered and rechargeable units. I prefer the AC powered unit that plugs into a wall outlet for my shop, and a rechargeable unit for my pit case.
I prefer to clamp small items I'm working on in a hobby vise when using a Dremel Tool. Especially when using cutoff wheels and grinding disks. HO parts are so small that with one slip you can easily remove a finger tip. Eye protection is also required.
Dremel Tools can be purchased separately or in a set including the most commonly used accessories. The sets are a good deal and include an assortment of bits useful for HO Slot Car Racing as well as other tasks around the shop. I purchased my set at Sears that also included a very handy tool organizer that mounts on a wall or bench top and keeps all of my accessories neatly organized.
Here is a list of the Dremel Tool accessories you will need to work on HO Slot Cars:
Dremel Rotary Tool
Drill Bit Set
Wire Brush
Grinding Stone
Polishing Disk
Collet Set
Warning: Only buy accessories specifically made for Dremel Tools. A Dremel Tool is a high-speed rotary tool capable of turning at up to 30,000 RPM. Bits and accessories not made for high-speed operation may fly apart and cause serious injury. Read the Safety Section of the Dremel Tool User's Manual and follow it.
Tool and Parts Storage
At this point you will have assembled a good assortment of tools, supplies, parts and cars. A large toolbox will help you to keep your tools and supplies well organized and readily accessible.
Plano Pit Storage
The Plano Company makes a great line of fishing tackle boxes that work well for storing HO Slot Car tools and supplies. They also produce a large assortment of small plastic organizer boxes that are ideal for storing HO Slot Car parts and accessories.
Plano Parts Storage Box
Personally, I prefer a tool box with removable plastic bins like the one shown above instead of sliding drawers. In tighter spaces such as the pit area at many commercial slot car tracks a tool box with sliding drawers often gets in the way of the work area, while plastic bins can be removed and the folding front door kept closed to give more work space. The plastic parts boxes will also fit in the rack system shown below.
Plano Car Storage
Plano makes a nice racking system that's ideal for storing larger slot car collections. Each storage module holds four individual plastic boxes. A single plastic box is large enough to store 12 HO slot cars, so that's 48 cars in all. These storage racks can be stacked and mounted on a wall.
Your cars will be kept safe and dust free in these economical store units, and as your collection grows you can simply add more rack units. The plastic bins are the same size as the divided parts boxes in the tackle box described above, so not only can you store cars, you can also store all of you parts in a neat and organized system.
The Work Area
A clean well lighted work area is essential to HO Slot Car maintenance projects. Your work area can be as simple as a kitchen table with good overhead lighting to a dedicated work bench in your shop or basement. A clean well lighted work area can not be over emphasized. HO Slot Cars and their parts are small and can be somewhat tedious to work on, especially if you can not see what you are doing. Invest in a good hobby lamp with an integral magnifier when funds allow. This will quickly become one of your most used tools.
If you have the available room you may want to create a dedicated area for HO Slot Car maintenance. A dedicated area will allow you to leave ongoing projects undisturbed.
Sears sells a very nice metal topped work bench that is ideal for HO Slot Car maintenance projects.
Sears Craftsman Steel-Top Work Bench
I purchased one of these workbenches on sale at Sears for $99.95. The workbench includes a galvanized steel top, five sliding drawers on one side and a large bulk storage area on the other side. The bulk storage area can easily accommodate two large Plano tackle boxes. The sides of the workbench are perforated for standard peg-board hooks.
My PanaVise has a magnetic base that clamps firmly to the steel top, but can be removed when I need extra room.
The bulk storage area includes two adjustable shelves, so I assembled the workbench so that my Plano tackle boxes fit on the bottom shelf and the shelf above holds a half-dozen Plano parts storage boxes.
The work surface measures 20″ × 54″ and provides enough room to lay out all of my tools and supplies. I mounted a small 2 × 4 foot piece of 3/8″ peg-board painted white on the wall directly behind the workbench to give me additional storage space for extra tools and HO Slot Car parts still in their blister packs. Painting the peg-board white made it a nice light reflector too.
Magnifier Light
With the addition of a hobby light with integral magnifier, an AC power strip and a small shop stool, I created a nice work area dedicated solely to HO Slot Car racing projects.
Machine Tools
When you get really serious about the hobby you may want to invest in high-quality machine tools. These tools will allow you to design and fabricate a wide range of custom parts and tools not normally found in hobby shops and at commercial raceways.
Good quality machine tools are expensive, so don't be tempted to cut corners and buy "hobby" products such as Unimat made to sell for a few hundred dollars. They will not last and do not have the precision a high-quality machine tool offers.
The vertical milling machine shown below is probably the most useful machine tool you can own. With it you can mill steel and other metals along with Delrin stock. Just about any part or tool that you can imagine can be made with a good vertical mill. A vertical milling machine can also double as a high-precision drill press. Cost: $600
Micro-Luz Milling Machine
Next to the vertical milling machine shown above an engine lathe is also an essential tool if you plan on machining and balancing your own motor armatures, and turning custom-size wheel hubs. Cost: $500
Micro-Luz Engine Lathe
An all-in-one machining center combines a vertical milling machine with an engine lathe. If you plan to only buy a single machine tool then this is the one to consider. Cost: $700
Micro-Luz Macning Center
The machine tools shown above, along with many of the hobby tools discussed in this section are available from Micro-Mark Tool Specialties. I've been purchasing tools from Micro-Mark for many years and have always been very satisfied with their quality and selection.