Keep you slot car clean. The first and foremost speed tip costs you absolutely nothing, but is often overlooked by beginners and experienced racers alike. Remove the body and visually inspect the chassis on a regular basis. Make certain the pickup shoes are clean and that they float freely. Check the wheel hubs and make sure they are not rubbing on the chassis. Rotate the tires and make sure the axles are not bent. A clean slot car will always perform better and last longer. Replace any worn parts you find before they fail.
Use oil sparingly, but use it. Keep your slot car chassis and motor lubricated. A small drop at each of the chassis axle bearings, both front and back is all you'll need to keep the axles spinning freely. A drop of oil on the front and rear motor end bells will keep the armature spinning freely as well. Use a small pin-point oiler and don't overdo it. Better to oil often, than to make a mess.
Pick one car and stick with it. This tip is also free. Don't switch cars and chassis constantly. Get to know the handling characteristics of a single chassis, and tweak it to your liking. This is particularly true with box stock slot cars. No two are exactly alike. If you have several cars to select from find one that is quick right out of the box and use it exclusively. If you had a half-dozen new Super G-Plus cars to pick from you would invariably find that at least one of them was much faster than the lot.
Practice. The more time you spend racing a particular chassis, the quicker you'll get. Run on all the lanes, especially those inner lanes with extremely tight turns. Practice time can not be over-emphasized. Real race car drivers would kill for the kind of "seat time" slot car racers enjoy. Plenty of practice time will also familiarize you with your chassis' unique handling characteristics. With plenty of practice time you will also be able to spot subtle chassis and motor problems much sooner.
Becoming intimately familiar with a single chassis through hours of practice and testing will also make it possible to more readily see the results minor chassis modifications make.
Tires and Pickup Shoes
The simplest and least expensive means of improving your HO slot car's performance is to replace the rear tires and upgrade the pickup shoes. These two items will make a big improvement in your car's handling and its ability to get full power to the motor.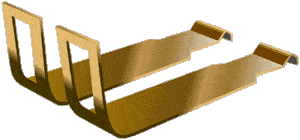 Pickup Shoes: HO slot cars need power. Replace your car's worn copper pickup shoes with gold plated units. Gold plated pickup shoes will work much better than the stock copper units and can be found at most hobby stores and slot car tracks selling hop-up parts. Gold plated pickup shoes can also be ordered directly from me on the BSRT Parts page if your local dealer doesn't stock them. Copper pickup shoes normally sell for $1.00 while gold plated shoes go for $2.50. The extra cost will be well worth it.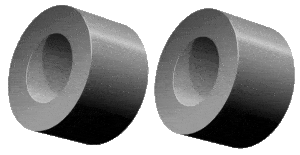 Rear Tires: The rubber rear tires supplied with box stock HO slot cars can easily be replaced with high-performance Silicone tire compounds. Silicone tires improve a car's grip in the turns and will also reduce wheel spin under hard acceleration. Mattel Tyco owners can simply slip silicone tires on their car's stock wheel hubs. Tomy AFX owners will need to purchase a pair of Delrin wheel hubs along with silicone tires. Silicone tires are available for approximately $2.00 a pair and Delrin wheel hubs cost an additional $3.50. If your dealer doesn't carry these items order them directly from me. The Tires section of this web site has more information about replacement tires for all of the popular brands of HO Slot Cars.
The two improvements listed above are the most expeditious upgrades available to most slot car racers. Additional improvements can be made, but improving the rear tires and pickup shoes should always be done before any other modifications are undertaken. See the BSRT Parts section of this web site for the specific parts described above.
If you're looking to improve the performance of a Tomy AFX Super G+Plus or Super Racing Turbo (SRT) chassis. I sell Hop-Up kits that include all of the BSRT parts mentioned above. Visit the Tomy page and look for the Tomy AFX Super G+ Hop-Up Kit and Tomy AFX Turbo/SRT Hop-Up Kit items listed there.
Weight Savings
HO slot cars, just like full sized race cars, benefit from reduced weight. Reducing a slot car's overall weight will improve its acceleration, reduce braking distances and lower the chassis roll center.
Lexan™ Bodies: The easiest way to reduce a slot car's overall weight is to replace the injection molded plastic body with a vacuum formed Lexan™ body shell. Light weight vacuum formed body shells greatly reduce a slot car's overall weight. These bodies can be purchased in either unpainted or painted form.
Lexan™ is a very durable plastic compound originally developed by the General Electric Corporation. It resists breaking and tearing and is very strong, while being light and highly flexible. You must use paint specially formulated for this material though. Normal model enamel will simply not adhere to it. Pactra makes a special paint that is ideal for painting this type of plastic.
An unpainted Lexan™ body can be purchased for as little as $2.00 while custom painted and trimmed bodies may cost $5.00 to $10.00 depending upon the level of detail provided. I'm current stocking Lexan bodies pulled from .010 material. See the Lexan Bodies page for available models.
A vacuum formed body can easily be painted by hand or with an artist's airbrush. These body shells are molded from transparent Lexan sheet and are painted from the inside using special Lexan™ racing paint available at better hobby shops.
With the proper paint these bodies can easily be finished by any slot car racer. And because the body shell is painted from the inside, brush stokes are not visible and the smooth outer surface makes for a very professional outcome.
Vacuum formed bodies can easily be mounted on an HO chassis using small strips of double-faced foam mounting tape or with special mounting tubes and pins.
Water slide or self adhesive Decals will add the finishing touch and make these bodies look very realistic.
Blueprinting
At this point, if you have replaced the rear tires, upgraded to silver plated pickup shoes and added a light weight vacuum formed body, you can still get even more speed out of your slot car. But be warned, the following improvements can be costly and may even require a better controller and high output track power supply to fully realize these upgrades.

Balanced Armatures: Full sized race car owners normally rebuild their car's stock motor by balancing and blueprinting all moving parts in the engine. Slot car racers can do the same thing by purchasing a dynamically balanced motor armature, stronger motor magnets and silver or gold plated electrical motor components.
A dynamically balanced armature will cost between $10.00 and $30.00 depending on the level of racing you intend to do. Improved motor magnets will cost approximately $10.00 with gold plated electrical components adding another $10.00 to $15.00. See the BSRT Parts section of this web site to purchase the parts described above.
Buying a Winner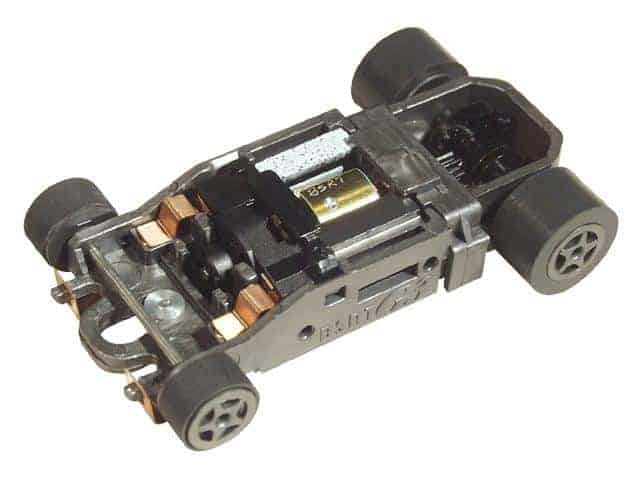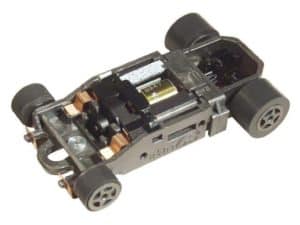 Several HO chassis builders have recently started making RTR cars available using many of the high performance parts listed above. BSRT is now selling their new BSRT G3 slot cars for between $34.99 and $109.99. When you consider that a stock Tomy AFX Super G-Plus is currently selling for $20.00 – $25.00 dollars, the improved G3 chassis and additional hop-up parts that these cars include make them a great deal.
Several versions are available from a hot-stock basic ceramic magnet model to a full-blown all Polymer magnet chassis. See the BSRT G3 chassis section for more information about these high-performance chassis.
BSRT also offers a Ready-To-Race Tyco 440×2 based slot car they call the BSRT 440-T2. For more information, and to purchase one of these RTR Tyco-based slot cars see the Tyco section. The BSRT 440-T2 cars are located at the bottom of the page after the BSRT Tyco Hop-Up Parts.