Many visitors write to tell me that they find modern Tomy Super G+Plus and Super Racing Turbo (SRT) slot cars, with their strong traction magnets, too fast and too easy to drive.
In large part I have to agree, but the older Aurora ThunderJets and A/FX Magna-Traction cars can be finicky and it's getting harder to find replacement parts for them.
I normally recommend that they try an Aurora G+Plus slot car instead. The G+Plus chassis was the last chassis design that Aurora offered before going out of business. The pancake motor with its power-robbing gear train was replaced with a simpler in-line motor, pinion and crown gear. The motor magnets did double duty as traction magnets, but were not nearly as strong as more recent Tomy chassis designs.
The Aurora G+Plus chassis is a joy to drive. It's relatively fast, but still allows drifting in the turns. A good supply of New Old Stock (NOS) Parts are still available for this chassis design. If you'd like to try a slot car that's fun to drive, but not as fast as a modern Super G+Plus then an Aurora G+Plus chassis may be just what you're looking for.
Chassis Design
The exploded drawing below shows the parts that make up an Aurora G+Plus chassis. As you can see, the basic chassis design shares many of the same concepts as a modern Tomy Super G+Plus or Tyco Magnum 440×2 chassis.
The G+Plus cars originally came with wide foam rubber rear slicks. Most racers replace these with a set of modern silicone tires, but other than that they can be raced box-stock with good results. Some of the latter G+Plus chassis included a small capacitor on the motor brushes to reduce radio frequency interference (RFI) and reduce brush arcing. This capacitor can be removed without effecting performance.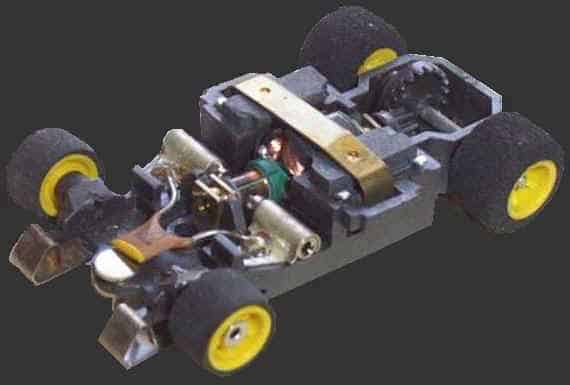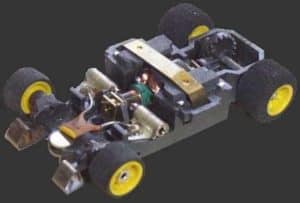 Replacement Parts such as pickup shoes and motor brushes are readily available as are many after-market Hop-Up Parts such as hotter motor armatures and stronger motor magnets.
Bodies
The Aurora G+Plus chassis shared the same body mounting tabs as earlier A/FX and A/FX Magna-Traction chassis. This allowed Aurora to make use of its extensive catalog of existing body moldings along with several new body styles created specially for the G+Plus chassis.
The Ferrari 312 PB was one of the most beautiful HO slot car bodies ever created. Its quality and detail has never been matched by modern slot car bodies. Aurora did an excellent job modeling some of the famous cars of the day, but none come even close to the superb Ferrari 312 PB.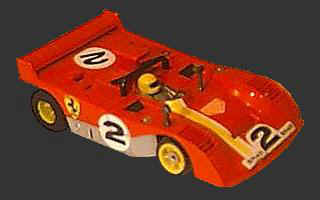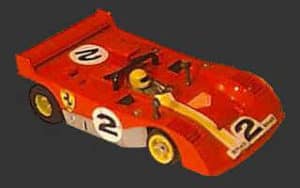 Restoration
Aurora G+Plus slot cars appear on eBay regularly and can be had for reasonable sums. You can also purchase NOS G+Plus Rolling Chassis and replacement parts from me. My Order Form has an entire section dedicated to NOS G+Plus chassis and parts. I also sell NOS Ferrari 312 BP bodies, complete with all of their stickers and mirrors intact.
Older Aurora G+Plus chassis will most likely need to be cleaned, but unlike the T-Jet and A/FX chassis, this can be done without disassembling the chassis and motor first. Simply remove the body and both the front and rear tires and then spray the chassis with brake parts cleaner. Do NOT attempt this with a modern Tomy chassis though because the plastic that Tomy uses will not stand up to brake parts cleaner.
Once the chassis has been cleaned put the tires and body back on and you'll be ready to begin racing. If the pickup shoes are worn they can be replaced with BSRT pickup shoes. A set of silicone rear tires is also an easy and inexpensive upgrade.
Improved Performance
A clean chassis with a new set of pickup shoes and silicone rear tires is all that's needed to race an Aurora G+Plus chassis. But if you want an even better performing car, while still maintaining the overall balance and driving ease of the G+Plus chassis you can install a hotter motor armature and upgrade the magnets as well.
You don't have to get too carried away though. The whole idea of racing a G+Plus car is to return to the roots of slot car racing. The chassis is fast enough in box-stock form to offer a challenge, it's easily maintained and repaired and can be driven by novice or experienced racers alike.
Aurora G+Plus NOS Parts
I stock a good supply of Aurora A/FX G+Plus rolling chassis, bodies and New Old Stock (NOS) replacement parts. Use the G+Plus chassis diagram shown below to identify the parts you need.
Aurora A/FX G+Plus Chassis Diagram
Some of the last G+Plus chassis that Aurora produced were fitted with 5-spoke mag-style wheels that looked much more realistic than earlier wheel styles. The wheel set listed above contains a pair of these highly detailed front and rear wheels that will dress up any Aurora A/FX G+Plus chassis. Grooved or non-grooved front tires can be used on the smooth front hubs.
Aurora G+Plus Hop-Up Parts
BSRT G+Plus Parts
Jel Claw Racing Slicks
Jel Claw Racing Slicks are a newly developed molded proprietary rubber/silicone blend that work extremely well on plastic and wooden tracks.
These tires are a direct replacement for the factory foam rubber tires fitted to all Aurora G+Plus slot cars.
Club Racing
The Aurora G+Plus chassis makes for a great club racing class. Vintage A/FX bodies as well as modern Tomy sportscar bodies will snap right on to it, so any type of car you might want to race is possible. Aurora produced a whole line of CanAm and Le Mans GTP bodies that will fit right onto the G+Plus chassis.
The Aurora G+Plus chassis runs well for long periods of time, unlike the older T-Jets and AF/X chassis that need regular disassembly for cleaning.
The G+Plus chassis is faster than earlier Aurora slot cars, but not nearly as blazingly fast as a modern Tomy SG+ or SRT slot car. The chassis handles well and is easy to drive for long periods of time.
The Aurora G+Plus chassis is probably the best slot car ever produced in my opinion. If you like slot cars that slide and are not so fast as to be nearly impossible to see, then dust off an old G+Plus and see just how much fun HO slot car racing can be.