Remote control cars are for everyone. Whether you are a kid or an adult, a boy or a girl, it is never childish to play with a remote control car. And what is better than a remote control car? It is an app control car. Just like your remote, you can control your toy car with an app. This made things a lot more fun and enjoyable for everyone. So why not girls have fun too?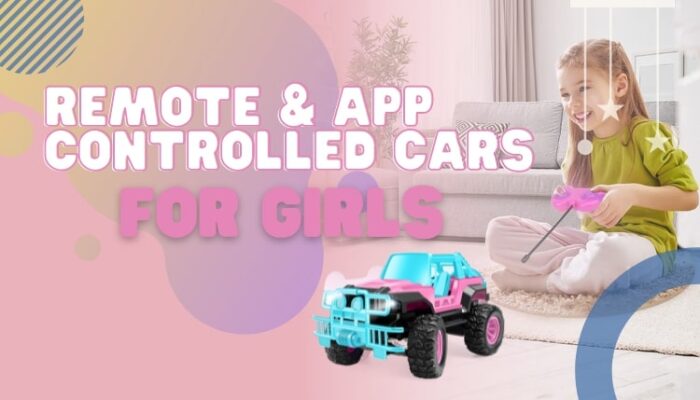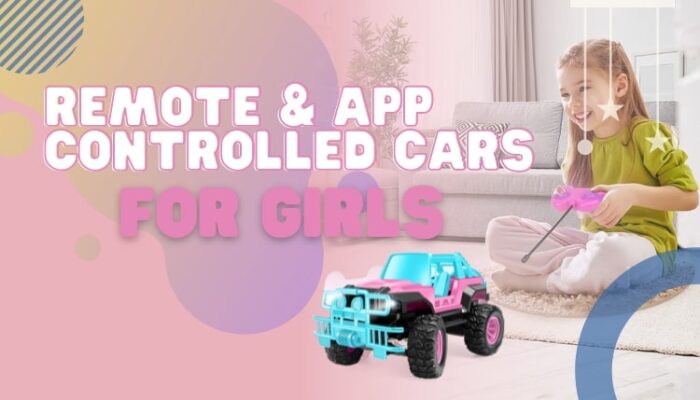 So let's have a look at some of the best remote and app control cars for girls.
1. MIEBELY Remote Control Car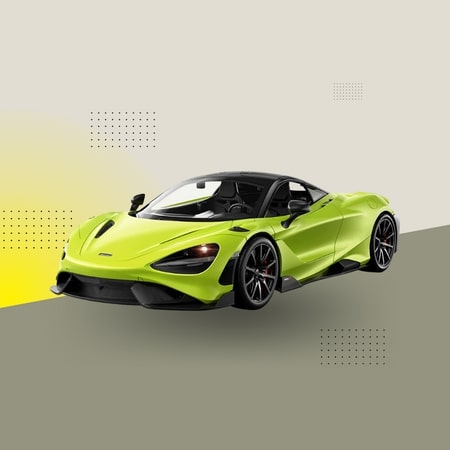 The first remote control car that we have here is super stylish and has a sports-car look. It is designed for kids who are between the ages of 6 to 12 years. But of course, adults can also play with it. And there is no gender discrimination, if boys can drive a car, girls can too. So if you want to give it as a gift to a girl (who likes cars), you surely can. This car is green in color so she is going to love it.
Moreover, it has the design of the McLaren 75LT, which is a supercar. Thus, this realistic luxury car design makes it more attractive and appealing. It also has a luxurious interior that makes it something you would not like to miss. Moreover, it also has functional brakes. So you will love driving it. And apart from the design, the built quality is also quite good. Thus, your RC car is not going to get damaged easily.
Though the design is attractive, it also features aerodynamic properties. Therefore, it will make the car fast. This RC car moves at a maximum speed of 12 km/h. Furthermore, the battery life lasts for 40 minutes. So you or your children can have a nice Car Race without worrying about battery life. Just enjoy your time with the kids.
2. Jada Toys, Girlmazing RC Jeep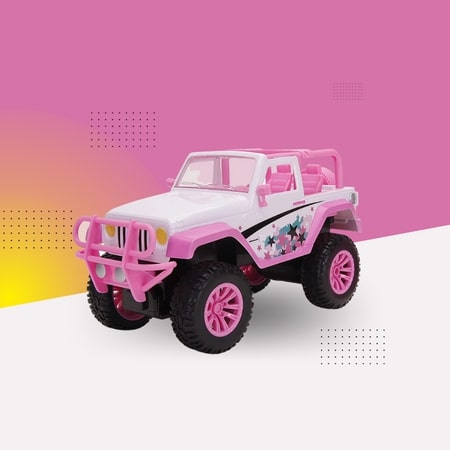 The second one that we have here is specifically designed and created for girls. So if you are a girly girl who likes pink things, you will definitely love this jeep car. So if you have a girl who is in love with RC cars, this is a must-have for her. If she has many RC cars, why not a jeep too? And this jeep is nothing less than other RC toys.
The jeep as a plastic body that will let the kid play with it for some time. It will not get damaged easily. Furthermore, there won't be any risk of rust. And you will need AA batteries to operate this jeep but you have to buy them separately. The batteries won't come with the jeep. And because it will use batteries, you can play with it for a few hours on fresh batteries.
In addition to the car, you will also get a card of stickers in the package. This will allow the girl to design the exterior of her jeep as she likes. So let your girl be creative. Furthermore, this jeep has adjustable seats that allow you to fit your doll in there. So if you are driving your jeep, you can also let your doll sit in there. The seats are spacious enough to adjust a doll of 10 inches in size. So let her sit in the driver's seat and have a fun time with friends.
3. Click N' Play – 2 RC Bumper Cars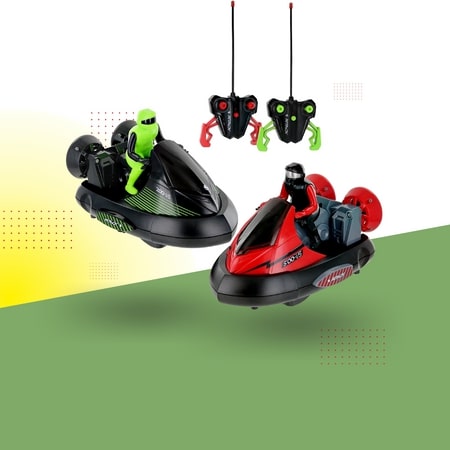 This is not just one car but a set of 2. So if you are giving it as a gift to your children, they are going to love it. This set will allow them to have a race and enjoy their time together. Even if there is one child, she can be in a race with her friends. This set of bumper cars is suitable for both boys and girls who are at least 6 or more 6 years old.
The thing that makes this set attractive is that the drivers are also sitting in there. And if you are worried that the cars might get mixed with the remote of another car, then do not worry. It is not going to happen. Why? Because both cars run on different frequencies. The red car operates at 27 MHz frequency and the green one at 40 MHz. Therefore, their remotes will only control them and not the other ones.
These cars are made from high-quality materials. Therefore, they are going to be fine for some time even with the chaotic children. Furthermore, the plastic material is non-toxic and follows the standards. It is also tested for the USA safety regulations. Thus, you can let your children use it without any worry.
4.  KidiRace Remote Control Police Car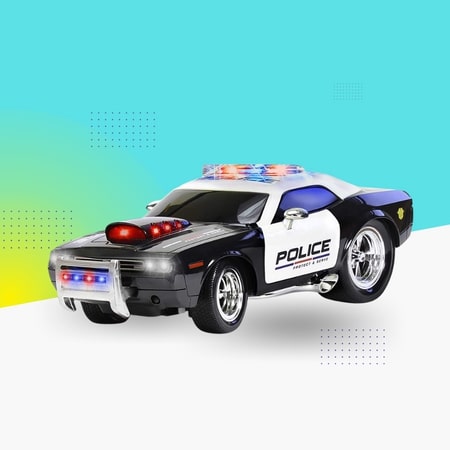 When it comes to RC car fans, they would love to have every design in their collection. This is not just a toy but a dream for many children. Therefore, if your girl has many cars, why not a police car too? It will let the girls have a chasing game. Having a police RC car in the collection will let them have a variety of gaming options. Apart from racing, they can also play other games like police and thief chase.
In addition to this, this car is quite easy to use because it is designed for children who are at least 3 years old. Thus, it will let them enjoy their time and also learn new things. So if you have a younger girl and she wants the RC car, you can get this one for her.
Moreover, the police car not only has this design but the lights are also functional. This feature will make the car more attractive. Furthermore, this RC car offers a time of 30 minutes upon a complete charge. And you can recharge it through the USB.