Shopping for toys does not need an occasion, and whether you're looking for the best RC cars and trucks under $100 for kids or grandiose dollhouses for the same price, you must keep the child's wants in mind. Toys bring toothy smiles to a child's faces and joy to their hearts.
However, as they grow up, their preferences for toys also change. They look for more excitement, more thrill. When you get them an RC car, that immediately becomes their favorite!
RC cars are advanced toys suitable for kids above 8 years old. If you've been thinking of getting an RC car as your next present for your kid, nephew, or niece, we are here to help.
These cars are incredible, accelerating up to 40 km/h, surviving collisions, and moving smoothly on most surfaces. They are built with advanced controls to make your child feel like the actual driver of the car. Below are the ten best RC cars under $100 that you can buy.
List of The Best RC Cars And Trucks 2023
1.  Double E Monster Truck 4WD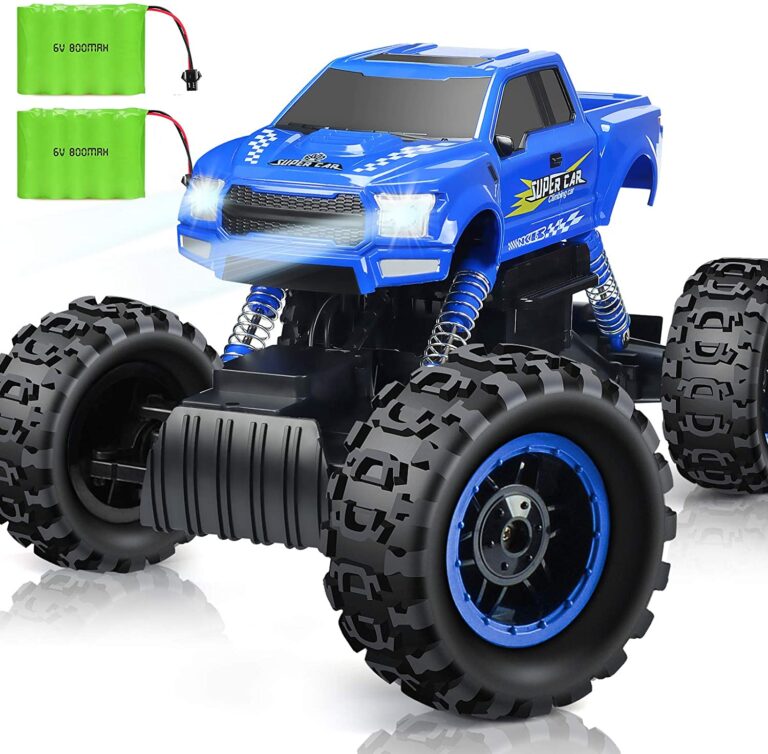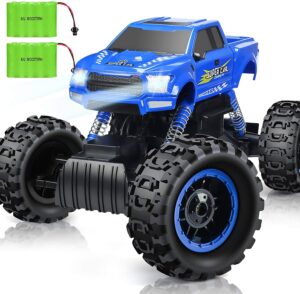 Featuring a strong and stable 4-wheel drive that includes rear and front motors, you can rest assured that this rock crawler will provide you with incredible off-road performance. It comes with powerful motors that give it a strong torque enabling it to work on practically every type of terrain. Besides, it comes outfitted with an independent suspension system that prevents all sorts of damages caused by vibrations.
Also, the high torque produced by the powerful motors of this remote-controlled car makes movements across every terrain easy with incredible stability. Its radio system also comes with an incredible range of around 260 feet at a frequency of 2.4GHZ.
Apart from that, the steering system of the car is highly responsive and extremely ergonomic, thereby providing better handling. The car also features a rechargeable 6 V battery. The battery allows you or your kids to play with the car for around 40 minutes before it will need to be recharged.
Overall, this is a decent RC car. While it is very affordable, it provides great performance. Besides, it is very easy and effortless to use, which makes it perfect for both children and adults.
Features
Ergonomic steering
Suspension system
Suited for all kinds of terrains
Anti-skid tires
Shockproof
2. Haiboxing 12815 1/12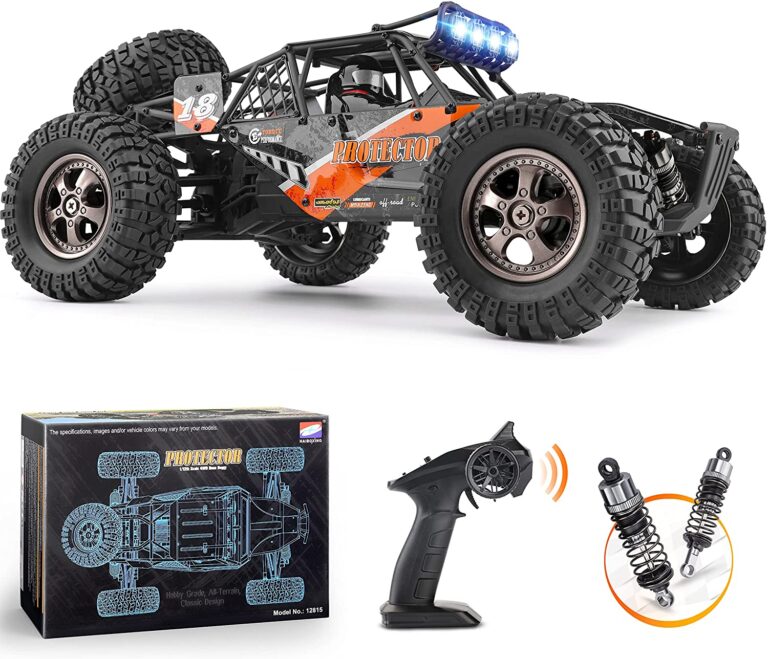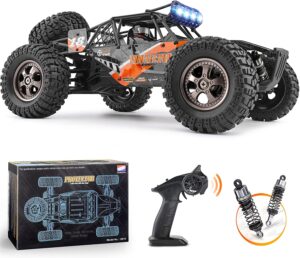 The second place goes to Haiboxing's 12815 RC car. It goes for around $100, barely fitting into today's list. Still, the performance this baby has to offer and it's set of beginner-friendly features ought to impress you. Believe it or not, this model possesses probably the best all-around characteristics and outstanding value for money.
First and foremost, Haiboxing 12815 piece is a 1/12 RC car featuring 4WD drive and plenty of ground clearance. It goes under two different names – 12815 is its part number, while its box proudly displays Protector's name. Be that as it is, we're looking at quite an aggressive lad here.
This gorgeous all-terrain RC truck sports aluminum-capped oil dampers, metal gear differentials, and modular chassis that can stand quite the beating. The electronics are waterproof, but only to an extent. You can expect this bad boy to run fine during rainy days, but you can't expect it to run through muddy waters as you'd do with more expensive models.
Haiboxing 12815 AKA Protector runs on the popular RC390 brushed motor, providing great throttle and solid endurance. Amazon offers awesome deals on replacements if you manage to burn it, and the repair process isn't overly complicated.
You can expect around 38 to 40 km/h top speed. Battery-wise, this thing runs on 18650 batteries, but the stock ones aren't too good. Upgrade to similar mAh but higher discharge Li-ions, and you can expect massive improvements in the runtime section.
Features
Ideal backyard burner
Runs on interchangeable 18650 batteries
Can reach close to 40km/h
Has 4 bright LEDs upfront
3. Rabing Newer Remote Electric Rock Crawler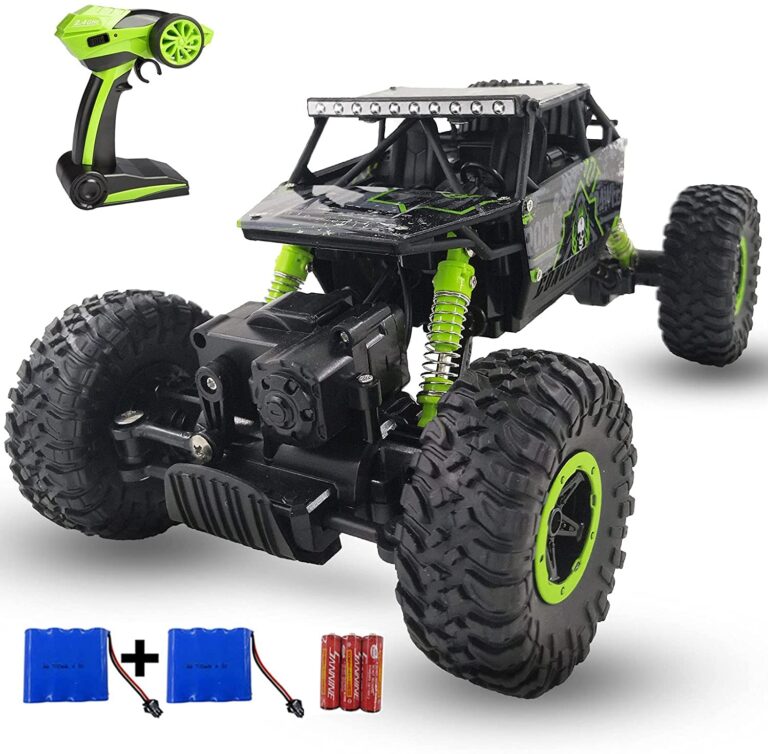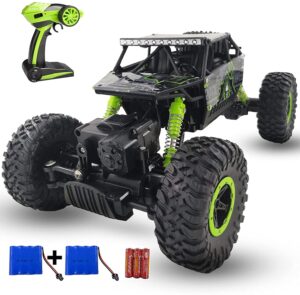 The Newer Remote Electric Rock Crawler is another affordable RC vehicle from Rabing. But, while the first Rabing product on our list is an off-road car, this one is a bit different. It is an off-road rock crawler, built to drive on different sorts of terrain. With a control frequency of 2.4 GHz, you can't encounter any issues using this RC car in a region where there are several other RC cars.
Furthermore, the Rabing's Rock Crawler comes with semi-pneumatic rubber tires that are built to give more flexibility to the car. The tires are made of high-quality PVC material which makes them elastic and soft. The tires have a strong grip, are anti-skid, and can be driven on uneven terrain or slippery roads. The incorporated independent suspension system also protects the electronic components from shocks.
When it comes to remote control, this RC car is also very reliable. It has a control range of 164 feet, which means you can effortlessly drive the car even when you're 164 feet away – really impressive! Besides, the car comes with a direction at the bottom which can automatically adjust when the car isn't walking straight. This RC car, with all the features it incorporates, will make a perfect birthday gift for any child or adult.
Features
Usable on every terrain
Durable construction
Great for the money
Decent remote frequency
4. Hosim Spirit 1/16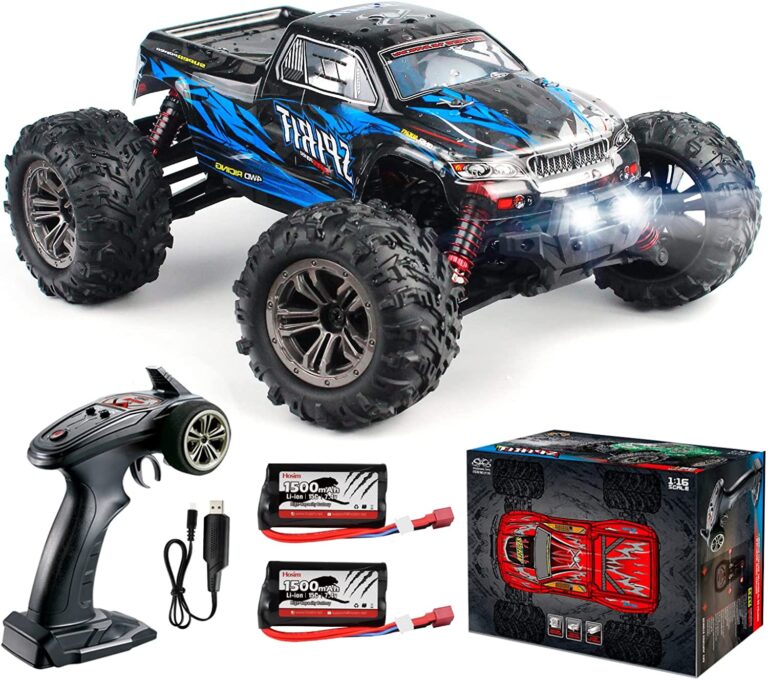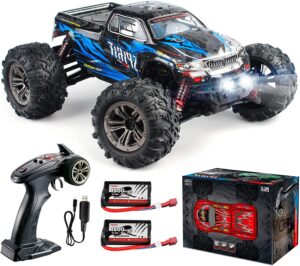 You can get your hands on Hosim's potent 1/16 monster truck model, codename Spirit, for just a few additional bucks. We're talking about a heavy-duty RC truck here, possessing massive wheels that allow it to go on terrain.
Even though Hosim Spirit 1/16 looks like a rock crawler, it acts differently. This is not your typical rock crawler, Hosim's Spirit can also develop solid speeds in addition to its obstacle-beating, going above 36 km/h. Yep, for just a few extra bucks, you're getting a lot more speed than what the Deerc's model offered.
That's not all, though – Hosim Spirit packs a 2.4Ghz transmitter connection that works up to 80 meters or CCA 260 feet. 4WD is here, which ensures the car can drive on all sorts of surfaces, including snow, dirt, and rocky footpaths. Are you willing to splurge a few extra bucks for these performance increases?
As far as the design of Hosim Spirit is concerned, we're looking at a very pretty model. The canopy comes in two colors, red and blue, and the overall appearance is satisfactory. The same can be said about its individual shocks, which have splashes of rec that give the model an extra layer of detail.
Features
36+ km/h top speed
Roughly 80m/260ft max transmission distance
4-wheel-drive for rough terrain adventures
Great for first-time users and children
One of the best RC cars under $100
5. Deerc DE36W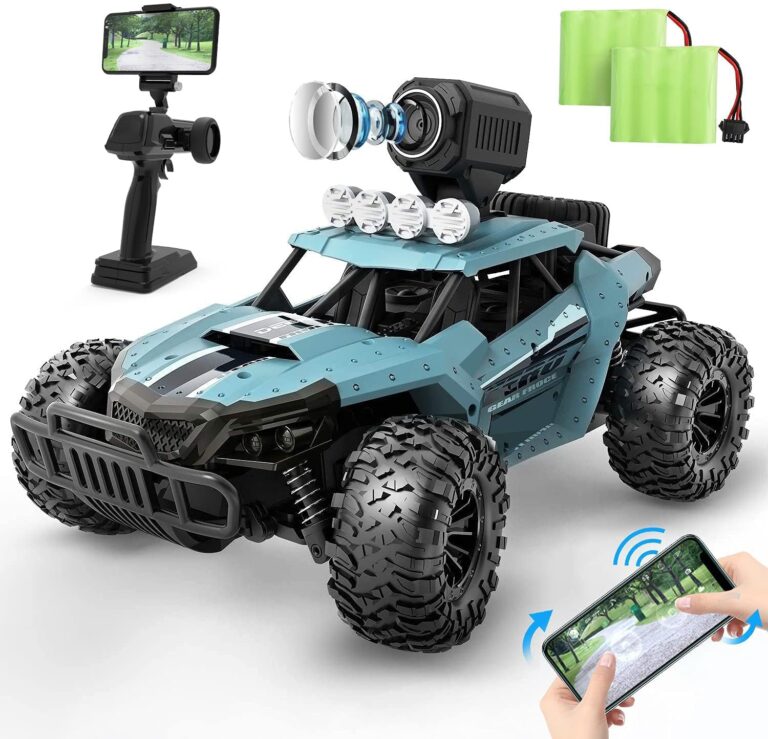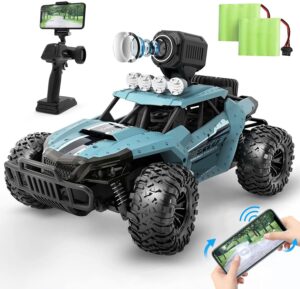 Let's start with Deerc's DE36W, which is as cheap as $70. Better yet, it's often on sale for roughly $65, which makes it an absolute bargain. We're talking about a nicely poised model here, one that won't take too much money out of your budget but will still amaze you with the driving performance it offers.
For CCA $70, you're getting a 1/16 model equipped with a potent motor. We're talking roughly 15 to 20 km/h, which isn't half bad for the price you'll pay for it. On top of that, Deerc DE36W can endure up to half an hour of runtime on a full battery charge.
The provided battery is a 6V 800mAh NiMh piece, and no worries, its charger comes with the package. As for the range, if you're controlling it with the provided 2.4Ghz transmitter, you can expect around 50 meters (165 feet) of coverage.
That's not the only range you have to vary. You see, Deerc DE36W comes with a camera on top of the device. It's a miniature 720p sensor equipped with a video transmitter that works over WiFi. It connects to your phone and allows you to see your drone's live-action up to 30 meters. This little bugger provides solid value and is surely among the best affordable RC cars out there.
Features
Live 720p FPV transmission
Independent suspension springs
20-30 minutes of runtime
15-20km/h max speed
Buying Guide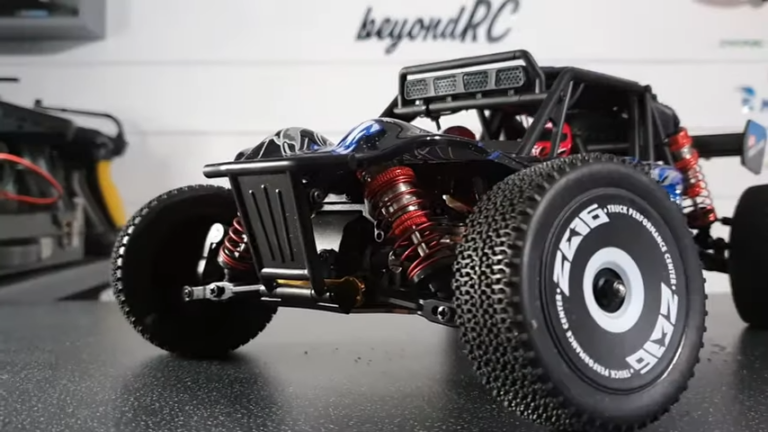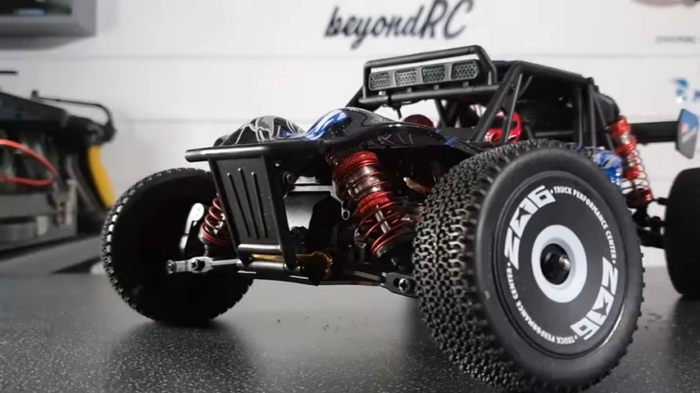 1. Type Of Car
There are 2 major types of RC cars- on-road RC cars and off-road RC cars. On-road RC cars have tires suitable for driving on smooth and slippery surfaces. This makes it ideal for indoor use as well. On the other hand, off-road RC cars have wheels suited to driving off-road, like rocky or concrete terrains. The type of car you decide to purchase is based on your need and purpose of use.
2. Durability
Durability becomes an important factor in RC cars as collisions are almost impossible to avoid all the time. Your car will knock into something or the other at some point. It is important to choose an RC car with a durable structure.
At the same time, they should not be made out of materials that cause cuts and bruises to children. Most RC cars are made from ABS materials that are eco-friendly. However, make sure it is reinforced well and has an anti-collision bumper.
3. Speed
The car's speed becomes an important factor when using the car in racing competitions. However, if RC car racing is a leisurely activity, you may not require RC cars with powerful motors and high speeds. Some RC cars are equipped with a 390 motor that can reach a maximum speed of 40+ km/h. If a day of fun is what you desire, any RC car between 20-30 km/h will serve the purpose.
4. Control Distance
This is an important factor as you will lose complete control of your RC car when it exceeds the range it was designed for. Most off-road RC cars have a control distance of 300 feet or so, making the remote work within 300 feet. Others have a much lesser control distance, with some on-road cars limiting it to 150 feet.
Having a larger control distance is desirable as it allows the remote and the RC car to be further away from each other and still function. Ensure to check the specifications when purchasing your RC car.
5. Battery Life
Most RC cars are equipped with dual rechargeable batteries to provide around 20-25 minutes of playing time. The battery life of the RC car has a direct impact on the amount of time that one can continuously use it without charging. However, if you want an RC car that can provide 40 minutes of playtime in one session, you must purchase one with a high-capacity battery.
Conclusion
RC cars are fun and exciting to play with. They are high-speed remote cars that can be used in racing competitions. While they may seem expensive, you don't need to break the bank to get your kid one. There are many high-speed RC cars available for under $100. They are compact, rechargeable, and portable. That means they can even be taken on family vacations to keep children occupied.
Frequently Asked Questions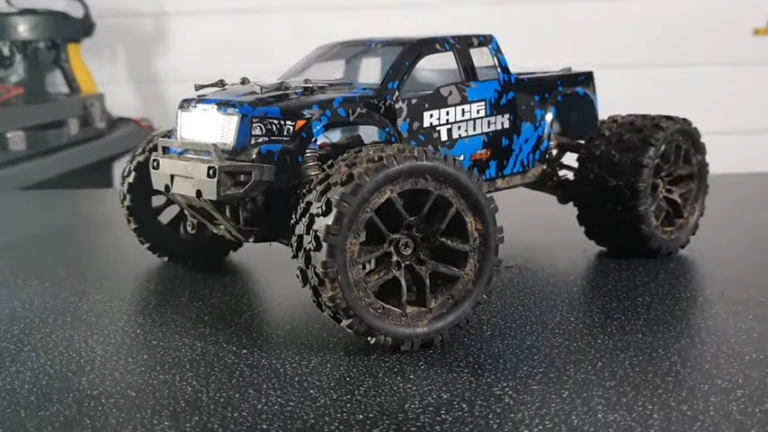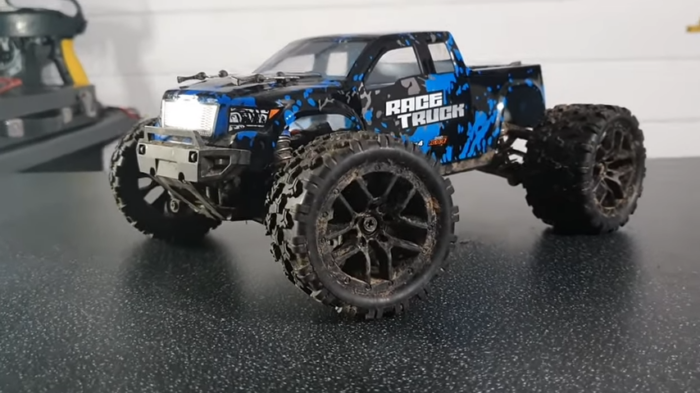 How Long Does An Average Rc Truck Vehicle Battery Last?
A typical RC car battery lasts up to 10-20 minutes, but if you upgrade it to a more expensive one, it can give you up to a maximum of 40 minutes on one single charge.
Are Rc Trucks Good In Water?
This is one question that varies from brand to brand. The best RC cars usually come along with waterproof equipment but just being on the safer side, make sure you check the manufacturer's description before making a decision.
Off-Road Or On-Road?
On-road cars will make a good drive on level grounds or pavements. But jumping into the dirt with your RC car can create trouble. The recommended solution here is that you go for an off-road vehicle because it will suit you well both on pavements and in the dirt as well.
Are Extra Batteries Worth The Money?
Extra batteries are always a great option to go for. No matter what the vehicle is, a car, a truck, or even a plane, the answer is always the same. Extra batteries make playtimes longer and are certainly worth every penny spent.
Check out some other picks from Amazon also: